How the Tech Sector Wants To Finally Fix the Broken 911 System
Can Silicon Valley do what Congress can't?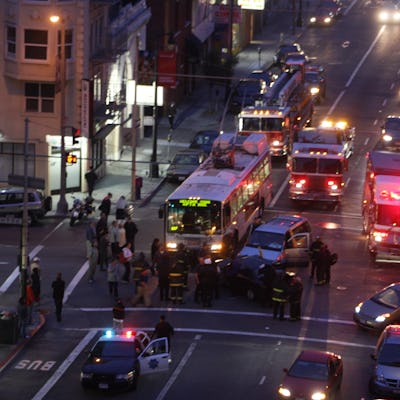 Paragon/Flickr
Each year there are nearly 240 million calls to 911, but as little as ten percent of 911 operators know the caller's location. That's what millions of viewers learned when America's clunky 911 system, based on 1960s infrastructure, became fodder for a memorable segment on HBO's Last Week Tonight this summer. "911: We'll be there when you need us. Some restrictions apply. Actual response times may vary," joked host John Oliver.
It was old news to Michael Martin, who has spent the last four years trying to modernize 911. "Despite what we carry in our pockets, dispatchers aren't able to access most of that data," Martin tells Inverse.
After being followed one night and unable to take out his phone, it became clear to Martin that 911 needed fixing. He had spent four years in venture capital and was sick of what he says were "me-too" businesses trying to be the next Uber or Pandora. He realized with that same technology, he could improve the landscape for emergency services.
The 911 system relies heavily on Public Safety Answering Points (or PSAPs) to process tens of thousands calls a day. The technology that was developed for analog phones assumes the caller's location is the billing address. Meanwhile, significant cuts have been made to 911 emergency services, as most people have switched to cell phones. More than 70 percent of 911 calls come from mobile phones. You can summon an Uber to your location within minutes, but a 911 operator needs you to describe the location. The case of a woman who sunk into a pond and died is the worst example of 911 not working.
Martin, a Harvard MBA, and his partner Nick Horelik, an engineering Ph.D., spent a year visiting more than 500 dispatch centers and founded a new company, RapidSOS. During Martin's first visit, a mother graphically described her son's suicide. Martin lasted 10 minutes. He realized the stakes of his app were a lot higher than ones used to order a ride or Thai food. The cliche used by Silicon Valley marketers that their app might change people's lives rang hollow when held up against a 911 app.
"We're not building a technology like Uber. We are building a system that can never fail and 180 million Americans rely on," Martin says.
So rather than disrupting the current system, the company chose to work alongside it. The app that RapidSOS created, Haven, allows users to feed critical info like GPS data through their mobile device to emergency dispatch centers during a call or text.
"We basically built a pipeline for data from any phone to any PSAP into the U.S." Martin says. "You can't just disrupt and hope that everything ends up fine. We really had to learn how this industry works."
What the team at RapidSOS found was that the industry is broken. In July, two months after the "Last Week Tonight" segment, FCC Chairman Tom Wheeler announced a plan for what the Federal Communications Commission has titled "Next Gen 911, which will move national 911 services to an IP-based service."
"Resource-strapped local jurisdictions struggle to maintain existing 911 service, let alone to achieve Congress's NG911 vision. Industry and many states, counties, and cities are working hard to address transition risk and achieve NG911 capabilities," FCC Chairman Tom Wheeler told Congress in September.
Wheeler said during testimony that 20 percent of counties support text-based 911, but many were still building the IP infrastructure to update 911 systems. In 2012, Congress set aside $115 million for development, but the project has been stalled for four years.
An FCC spokesperson tells Inverse that the Commission is limited in what it can do until Congress makes any movement on the funds.
Infrastructure demands go beyond the state level. Right now, the National Institute for Standards and Technology is seeking partners for FirstNet, a $7 billion project to create a standardized national public broadband system that would help make interstate capabilities for NextGen 911 functional.
RapidSOS, which counts two former FCC councilmembers on its advisory board, isn't trying to disrupt NextGen 911, but rather speed along its benefits.
"They ran into this big technological wall so that's what we really set out to build," says Martin.
Martin says Rapid SOS data shows that its technology can result in a 2 percent reduction of mortality. (The FCC estimates that even a one-minute reduction in emergency response time can save up to 10,000 lives annually). The next steps for the app will be incorporating vehicle data from car accidents and multimedia. In states like Maine and Indiana, where Next Gen 911 systems are already in place, RapidSOS is incorporating multimedia.
"I think the FCC has really been consistently trying to push the conversation forward. But the reality is that when you have 6,000 different systems, the technology lift is substantial," Martin says.
Eventually, RapidSOS wants to expand beyond location and caller identification, to live-streaming video and collecting seismic data from car accidents.
Of course, as the infrastructure of technology expands and more, so will cybersecurity concerns. With a projected infrastructure of over 50 billion IoT devices by 2020, the task of cybersecurity engineers is going to get more complicated.
"I think whenever you get the private sector involved in a responsible way, they're going to make the job easier," says Patrick Flynn, director of homeland/national security programs at Intel Security.
Both Intel Security and RapidSOS belong to the Industry Council for Emergency Response Technologies, a body of telecommunications stakeholders that represent the commercial sector in the emergency response technologies field.
"We have to change our thinking five, seven, ten years from now when we're going to have billions of devices on these networks," Flynn says.
In the meantime, Martin and the team at RapidSOS are focusing on the next generation 911 that can happen today.
"We wanted to build something that would work everywhere today," Martin says. "We're very excited about Next Gen 911, but we didn't have the patience for that to be deployed."