Apple's October 27 Event Invitation Recalls This 1984 Commercial
"Macintosh, the computer for the rest of us."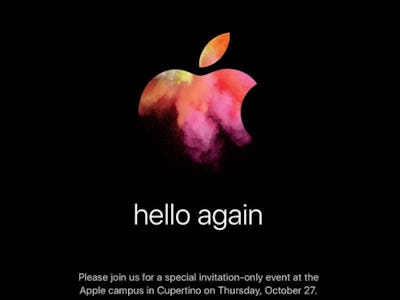 It's not official, but the invitation sent out Wednesday by Apple for its mysterious product event (probably about a new MacBook) simply reads, "hello again."
Which begs the question, "when did Apple say 'hello' for the first time?" The answer lies in the commercial from 1984 that presented the first Macintosh like so:
"It's more sophisticated, yet less complicated. It's more powerful, yet less cumbersome. It can store vast amounts of yesterday or tell you what's in-store for tomorrow. It can draw a picture or it can draw conclusions. It's a personal computer from Apple and it's as easy to use as this… "
Then, a computer mouse appears on the screen briefly, before a hand moves onto it and pushes it off-screen.
"Macintosh, the computer for the rest of us."
So to answer the question, this is when Apple said "hello" for the first time:
And here was the second time, announced on Wednesday.
When Steve Jobs presented the beige box in January 1984, the device was amusingly heralded with the intro to "The Wind Beneath My Wings" by Bette Midler. We know what Jobs thought of his device, and himself:
Later, Macintosh's voice said, "Hello, I am Macintosh. It sure is great to get out of that bag." The robo-voice was greeted with squeals from the audience. "Never trust a computer you can't lift," it continued, before introducing Jobs.
So could we glean any hints about what will be in the new MacBook, based only on this commercial and presentation from '84? Perhaps, but Mac users who upgraded to the Sierra version of Mac OS last month already received Siri for their desktop. So we already know that any new MacBooks will talk back.
Watch the livestream at 1 p.m. Pacific on Thursday, October 27 at apple.com.