'Haters Back Off!' Proves YouTube Personalities Ain't TV Stars
Colleen Ballinger's Miranda Sings takes on Netflix, and falls into a familiar trap.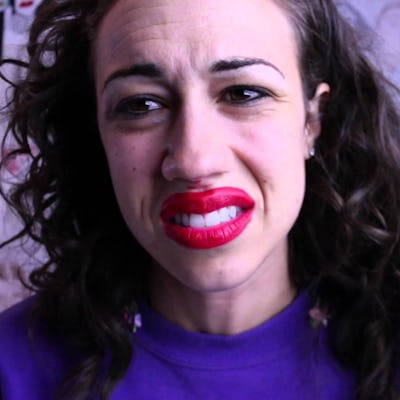 YouTube
Miranda Sings's Haters Back Off! debuted on Netflix last weekend, the latest effort that's the product of the digital platform's efforts to connect with younger viewers. In it, improv comedian Colleen Ballinger brings her viral YouTube personality Miranda Sings, the perpetually flat but deeply ambitious and self-involved amateur singer, to the mainstream. It's a character designed to be grating and unsympathetic, which is funny in two-to-three minute segments, but quickly becomes irritating in half-hour installments.
There's no doubt that Ballinger's series would, on paper, seem incredibly appealing to executives: the Miranda Sings character comes with a massive built-in following. Prior to the show's debut, Colleen Ballinger sold out venues across the country, racked up millions of YouTube hits and became a household name to any high schooler with a smartphone. Miranda is almost an exercise in Satire 101 for pre-teens — kids recognize she's bad and that she's based on the kind of confident mediocrity that can be found anywhere, from a junior high school choir to Iggy Azalea.
Haters Back Off! does make a valiant effort to build a narrative and give Miranda some sympathetic traits. Ballinger commits fully to her character, an impressive feat for six hours of original content, and she's flanked with a talented supporting cast. Angela Kinsey of The Office fame plays Miranda's quirky, reticent mother, and Steve Little of The Grinder and Eastbound and Down serves as Miranda's overbearing, hapless manager-uncle, providing some context for Miranda's overconfident weirdness. Francesca Reale serves as Miranda's sister Emily, the series's straight woman who is usually the intervening force that prevents Miranda from alternatively destroying a stranger's funeral, a church event, or an entire high school.
The townie characters and gratuitous holiday sweaters give off a Napoleon Dynamite vibe, but in spite of its best efforts, Miranda Sings is just a hard character to root for. Ballinger has been portraying her on the internet since 2008 and built a massive fanbase, but she hasn't had the need to build a real backstory for the character before now. The title suggests that critics back off, but anyone not devoted to that character for years will find themselves wishing Ballinger was the one giving it a rest. Sure, Florence Foster Jenkins was mediocre, too, but at least she seemed pleasant to be around.
This is not the first time an internet personality has had trouble sticking the landing on a jump to full-length TV show. Comedian Bo Burnham experienced a similar setback after his MTV series Zach Stone Is Gonna Be Famous was cancelled after one season in 2010. The show was picked up thanks to Burnham's YouTube fame, built on two- to three-minute parody songs he wrote in his high school bedroom, and the MTV series had a similar meta premise to Haters Back Off!: a teenager with a weird family trying to become internet famous in spite of their own lack of talent. The show received lukewarm reviews and was declared stale even in 2010. Its failure rerouted Burnham into standup comedy instead of further efforts at making his own TV show. This is the direction a lot of YouTube stars opt into — Grace Helbig has channelled her famous personality into a talk show on E! while others like Michelle Phan and Shane Dawson have opted to go the book route.
Still, the machine continues to try to find a way to make an internet personality-driven show work. A character that even more closely mirrors Miranda Sings is Fred, the creation of Nebraska teenager Lucas Cruikshank in the late 2000s. The character inspired a series of TV movies and shorts on Nickelodeon, but they fizzled out before Cruikshank's twentieth birthday. The Fred character was a fictional six-year-old with a digitally pitched-up voice who threw a series of tantrums in his web series, which Nickelodeon stretched into unwatchable features that send the teen into haunted houses and summer camp.
Cruikshank still hawks Fred merch on his YouTube channel, but almost as a joke at this point. The Fred webseries has since been discontinued, and the 23-year-old has produced vlogs as recently as this week addressing the failure of the Fred TV series on Nick.
Does this mean that we should stop plumbing the depths of the internet for good TV? Far from it. Adaptations of successful web series to narrative TV, on the other hand, have yielded far more critical success. Early online darlings like Broad City, Adam Ruins Everything, Drunk History, Children's Hospital, and the recent debut of HBO's Insecure (based on Issa Rae's Awkward Black Girl) have made the transition seamlessly. The common thread is that their source material, while also having compelling characters attached, are narrative at their core. Broad City has always followed two slacker girls in the city, and Drunk History has always taken a drunk recounting of a historical event and acted it out. While their original videos were as short as a Fred or Miranda Sings videos, there was always a discernible beginning, middle, and end.
Miranda Sings pops into a formulaic setup — essentially bad karaoke — over and over, but it doesn't give a creative team a story arc to work with. Burnham's alter ego and Cruikshank's Fred character fell into the same trap, challenging a team of writers to build a grounded world and motivation for what was essentially an unsympathetic character built to be enjoyed in short bursts.
Haters Back Off! got mixed reviews — The New York Times gives it the benefit of a "cringe watch" label, while Hollywood Reporter declared that the half-hour format caused "the lampoon [to] lose its edge". The more interesting question is where Ballinger goes from here. She's got the Miranda character down, but recent history pretty clearly indicates that one character does not a career make. Let's hope that she finds some longevity beyond the Netflix series, but if not, hey, it's kind of fun watching performers make the digital walk of shame back to their YouTube channel.