Big Data Could Change How Fast the NFL Diagnoses Concussions
And major sports leagues are paying attention.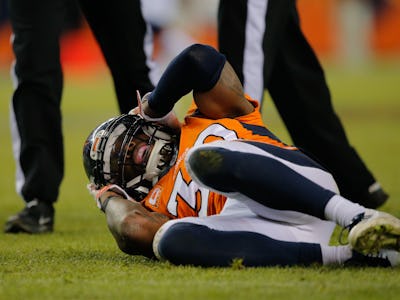 Getty Images / Doug Pensinger
The minutes between when a brain injury occurs and when the correct treatment begins can be critical. Bethesda-based startups RightEye and Brainscope want to close that gap by offering portable, mobile scanners that allow on-scene diagnosis that can transfer a patient into more advanced treatment faster.
Preliminary diagnoses rely on subjective calls from medical professionals, followed up by extensive testing using heavy equipment, all of which can back up emergency rooms and delay treatment. In 2010, there were 2.5 million emergency room visits, hospitalizations, or deaths for concussion-related injuries. According to the Centers for Disease Control and Prevention, every day 138 people in the United States die from injuries involving traumatic brain injuries.
"We want to be a one-stop shop in the clinical flow," Michael Singer, CEO of Brainscope, tells Inverse. "We marry our algorithms to our technology. You could use an electroencephalogram (EEG) tool and not interrupt the primary flow of patient care in the emergency department."
Brainscope's Ahead 300, which uses handheld mobile technology, does just that by taking an EEG reading and, using an algorithm rooted in big-data signal processing, determines if the injury is indicative of a concussion.
The first step of the technology is ruling out a hematoma, the most life-threatening of head injuries. Leslie Prichep, chief scientific officer of Brainwave, tells Inverse that the technology's ability to rule out a hematoma is almost as precise as scientifically possible.
Concussions affect brain connectivity, which alters the EEG of a patient. A Brainscope scanner uses an algorithm that compares the EEG of a patient to that of a database of 6,000 concussion scans. The application can then recommend if the patient should go on for a CT scan, which is the "gold standard" of diagnosis, Prichep explains.
Prichep was one the pioneers of quantitative EEG research at NYU Langone Medical Schools Center for Brain Health, a field that has grown exponentially in the past decade thanks to advancements in data processing.
She first came in touch with Brainscope when the company licensed some technology from the center ten years ago. She left to join Brainscope full-time in April when Brainscope received funding from the Department of Defense.
"You really need to have a partnership with an industrial firm because the [National Institutes of Health] is never going to fund you to go out there and build something," Prichep says.
In 2015 Brainscope was awarded $500,000 from GE and the NFL for concussion research.
Last month, the National Football League announced it would spend $100 million more on technology and research addressing head trauma through its "Play Smart. Play Safe" initiative. The donation came after another $100 million the NFL earmarked for research and equipment in 2012. The investment was the product of years of building scrutiny over the league's denial of research proving the many severe risks of concussions caused by play.
RightEye, another Bethesda-based startup, is a potential contender for some of that funding. It already partners with a number of professional sports teams, including the Pittsburgh Pirates. The startup boasts a number of vision-based tests but brain injury is its primary focus.
Unlike Brainscope, RightEye isn't providing a entirely new test, it's simply digitizing and standardizing a protocol that already exists.
Doctors have been using vision tests for years to diagnose head injuries. Because 50 percent of our brain plays a role in vision, a disruption in eyesight is a pretty sure indication of a brain injury. RightEye takes the test to the next level by providing in just four minutes a clear diagnosis using a test on mobile software.
"The problem with physician tracking that is it's relatively subjective," Chief Science Officer Melissa Hunfalvay tells Inverse "When you have a product that does all of that instantaneously, using eye movements you can be a lot more specific."
Dr. James Masterson, head of the Excela Health Sports Concussion Program who works with a number of athletic trainers and Penn State campuses, tells Inverse that using RightEye has already increased the efficiency of treatment but says no test is perfect.
"There's no practical test that can really tell us about the axons in the brain and neurons in the brain and there's no test that's sensitive enough to look at them all," says Masterson.
The Ahead300 device just received FDA clearance in September, but it's only been approved for use on people aged 18-65.
Prichep is already looking ahead: "How long until a concussion is healed?" she wonders. The technology could also be used to detect cognitive defects of aging, such as dementia.
But even the technology of Brainscope and RightEye could be obsolete in a few decades. SynchThink, one of RightEye's competitors, uses cameras in a virtual reality headset to track eye-movement instead of a mobile test.