The 'Operator' Trailer Reveals the Effects of AI on Romance
It seems that A.I. will be the undoing of us all ... romantically, at least.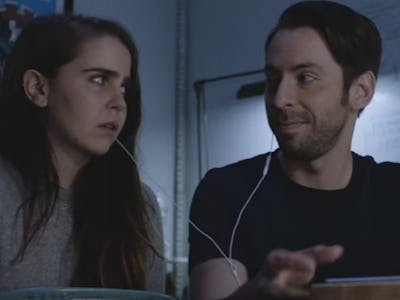 Youtube
As if finding love weren't hard enough, the creators of Operator decided to show just how Artificial Intelligence could ruin modern relationships. The new trailer released Wednesday makes it pretty clear: A.I. will be the undoing of us all … romantically, at least.
Operator, a top choice from critics at SXSW, delves into the story of Joe (Martin Starr), a data-driven designer of digital customer service voices — similar to Apple's Siri — and his growing obsession with creating the perfect "voice." He sets out to design a life-like and empathetic A.I. to present to his client (Retta) and ends up using the voice of his wife, Emily (Mae Whitman), who works in customer service at a hotel.
Joe seems to start out well-intentioned enough, but soon becomes unhealthily obsessed with perfectly emulating Emily's empathy. The trailer focuses on Emily comforting Joe through his severe anxiety, which he manages with her help and his obsession with data. But it's not enough — as Joe's project continues, their otherwise normal marriage begins to fall apart. When Emily is upset with Joe, he turns to the A.I. he's created to comfort him.
And that's where things get complicated. Artificial Intelligence so often focuses on the idea of "perfection." As most of us know, people are anything but perfect, and believing that your S.O. is perfect can lead to problems. The point of an A.I., however, is perfection — so why would someone choose the flaws of a human being over an A.I. that can give you all the comfort you want with none of the costs?
Hopefully, people continue to choose imperfection.