'Atlanta' Skewers How We Blame Rap for Societal Problems
If you're not invited to the BBQ, stop commenting on us.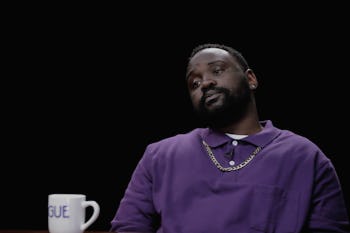 FXNetworks
Tuesday's Atlanta episode was the best installment of an already perfect series. Paper Boi (Brian Tyree Henry) is featured on a fictitious television show, "Montague", on the Black American Network (B.A.N.), to explain a controversial tweet he posted, saying he doesn't want to sleep with Caitlyn Jenner. He gets into a charged debate with Dr. Deborah Holt (Mary Kraft) over homophobia and transphobia, specifically within the Black community, and the doctor purports that rap music is a reflection of a wider masculinity problem in the Black community.
What's most noticeable about this episode is the way Paper Boi handles himself in a debate with an individual who is more classically "educated" than him. He argues the doctor down to the point that she eventually has to agree with him. He tells her that the generalizations we make about a specific community don't necessarily reflect the beliefs of any individual.
By singling out the Black community, showrunner Donald Glover is able to point out the hypocrisy that exists within our larger society, where we often blame social issues like homophobia, transphobia, or sexual assault on an exclusive community, as if these issues were not indicative of much larger problems.
Ironically, also on Tuesday, Donald Trump spokesperson, Katrina Pierson, blamed rape culture on the hip-hop community. That's not a new argument by any stretch, but it's a persistent one. I personally don't believe Donald Trump was listening to rap music when he allegedly raped his ex-wife, a 13-year-old girl, and a former business associate, but I digress.
One can also point to the number of times political pundits like Bill O'Reilly have used rap as a scapegoat for a range of issues, including the decline of Christianity, as if "Jesus Walks" wasn't one of the most celebrated religious songs of the early 2000s.
On Atlanta, Dr. Holt says the comments people make about hip-hop music is simply chickens coming home to roost. Paper Boi cleverly retorts, "No, rap is chickens coming home to roost. My life is messed up from shit y'all did." Actual rapper T.I. echoed that same sentiment on an episode of The Daily Show with Trevor Noah when he was asked about violence within hip-hop music. He said:
People need to take into consideration that hip-hop, traditionally, has always been a reflection of the environment the artist had to endure before he made it to where he was. So, if you want to change the content of the music, change the environment of the artist and he wouldn't have such negative things to say.
Hip-hop is no more at fault for social issues than rock music was for spurring an age of rebellion among teens in the '60s; music is always a response to societal problems that already exist, not the other way around. By categorizing issues as more prolific in certain communities than others, people create the myth that certain issues are simply a "Black problem" or a "Latino problem", and everyone gets to rid themselves of any fault in letting these issues continue.
To tell the truth, homophobia can often be detected in rap music. But we can't pretend that America, as a whole, doesn't have a problem with integrating and understanding the unique needs of marginalized groups. Ultimately, most of us need to cease the decrepit "hip-hop is at fault" crap and fix ourselves first before we critique others. And stop allowing out-of-touch "academics" to critique the Black community like they're a part of the inner circle. If you've never been invited to one of our BBQs, then you sure as hell can't critique the way we live.