There's a New 'Rogue One' Trailer Coming Thursday
And check out the brand-new poster for the 'Star Wars' prequel.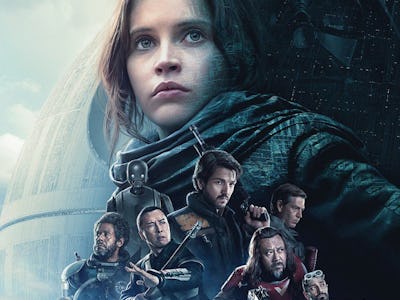 Disney
The final trailer for the upcoming standalone Star Wars movie, Rogue One, is dropping on Thursday morning, just two months before the film's December premiere.
Director Gareth Edwards dropped by The Star Wars Show on YouTube on Wednesday afternoon to tease the new footage, which will debut on ABC's Good Morning America. The Disney-owned morning show airs from 7-9 a.m. ET, so the trailer will premiere sometime during the runtime.
Previous trailers for the spin-off, which is set in between Revenge of the Sith and A New Hope, have already revealed a bevy of awesome looking scenes, dramatic effects, and lots and lots of easter eggs and clues for fans to obsess over. Thursday's reveal will likely bring a whole new round of theorizing at it previews more of Jyn Erso's mission to steal the plans to the first Death Star.
If Thursday morning is just too dang far away for you, Edwards also unveiled a new poster for Rogue One during his brief The Star Wars Show appearance.
The poster returns to the intriguing tropical beach location revealed in previous trailers and it gives a great look at all of the main characters, including Felicity Jones's Jyn, Diego Luna's Cassian Andor, Alan Tudyk's K-S2O, Wen Jiang's Baze Malbus, Forest Whitaker's Saw Gerrera, and Riz Ahmed's Bodhi Rook.
Watch The Star Wars Show below, and look for the trailer Thursday morning on GMA, and then everywhere on the internet immediately after that.
Rogue One hits theaters on December 16.