Hyperloop One Nudges Forward Plans for Shipping Route in China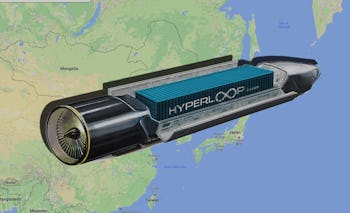 Hyperloop One/Google Maps
Reliability, not hyperloop's fabled speed, is the real appeal of Hyperloop One's bold vision for a "new Silk Road" of shipping via a transportation tube first dreamed up by Elon Musk a few years ago. Imagine: "Six containers departing per minute, 20 hours a day, 365 days of the year," shipping goods made in China to the Russian coast — and from there, the world.
This week, the Los Angeles-based company revealed that it wants to build a hyperloop through a rugged, mountainous region of China, connecting an isolated manufacturing hub with a burgeoning Russian port.
Hunchun, which is nestled above China's North Korean border, is a growing producer of grain, textiles, and other goods, and Los Angeles-based Hyperloop One wants to circumvent the mountains with an autonomous, lightning-fast system that darts across the Russian border to the seaside town of Zarubino. It's a distance of just over 40 miles, but Hyperloop One says the impact of its technology could propel the two economic centers into the big leagues.
Hyperloop One's Vice President of Strategic Communications Bruce Upbin tells Inverse that connecting deepwater seaports with so-called "dry ports" inland will make it possible to expand capacity and relieve congestion.
Traditional shipping methods are subject to weather delays — a big problem in this part of China. Upbin says that a hyperloop would solve for that, as an enclosed tube does away with weather concerns, operator error, and any number of other safety hazards.
Trade on the proposed Hunchun-Zarubino cargo system "will be primarily grain coming east from Hunchun and a balance of containers and grain going west from Zarubino to Hunchun," Upbin explains to Inverse.
There are, of course, many, many, many things that need to happen before Hyperloop One's proposed Hunchun-Zarubino cargo system becomes a reality. Hyperloop technology needs to continue to advance, obviously, and then there's the question of how a shipping center that operates on such a tight schedule on such a massive scale would function.
"We're not exactly sure what it would look like, logistically," Upbin tells Inverse. "There are many ways to design a system and were not there yet."
Beyond that, Hyperloop One needs both the Russian and Chinese governments to sign on. Upbin says the likelihood of that happening is "hard to say," though he noted that the idea already has "support and interest from the highest levels of Russian government." Hyperloop One worked with Russian investment firm Caspian Venture Capital to come up with the Hunchun-Zarubino study in the first place.
Even if both governments give the okay tomorrow, don't hold your breath. It's going to take two or three years to come up with a detailed feasibility study before anyone could even think about starting construction.
Maybe it'll get built before Westworld's hyperloop-featuring future comes to pass.