What Will Samsung Do After Discontinuing the Note 7?
The phone's not coming back this time.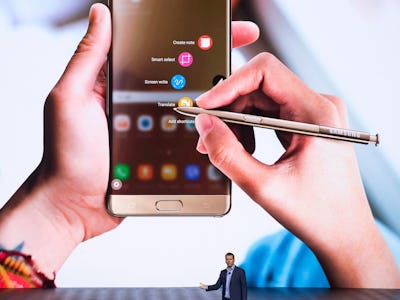 Getty Images / Drew Angerer
It's all over. Less than 24 hours after confirming that it would halt production, Samsung went one step further on Tuesday and officially discontinued the Note 7. The phone's troubled existence was marked by a spate of battery fires, a major recall, and a second round of exploding replacement models. Samsung's response has left question marks over its future plans, and depending on how big an impact the saga has, it could mean axing the "Note" brand for good.
"Taking our customer's safety as our highest priority, we have decided to halt sales and production of the Galaxy Note 7," Samsung said in a statement to the Wall Street Journal. Bloomberg reported that mounting pressure to act decisively led to the drastic move of pulling the plug.
With the Note 7 gone, Samsung might turn its development attention to the Note 8, while focusing its marketing materials on the S7 and S7 Edge. The latter is very similar to the Note 7, with just a 0.2 inch smaller display and lacking the S Pen functionality that lets users write on the screen with a stylus. Oddly enough, the S7 Edge has a slightly larger 3600 mAh battery (compared to the Note 7's 3500 mAh battery), which with a smaller screen gives it a slight edge (no pun intended) over its competitor. Oh, and the S7 Edge doesn't have a habit of exploding.
Axing the Note 7 suggests that, from a marketing perspective, the damage had already been done. Batteries are a tricky science, but when a tech giant like Samsung can't improve phone safety on the second attempt, it's hard to convince consumers that the third time will totally work and you can absolutely risk taking it on an aircraft. When the FAA is explicitly telling passengers not to use your phone, it's kind of hard to come back from that.
It could be the end of the "Note" branding for good, depending on how severe the publicity is in the weeks to come. It may have blown over by this time next year: Apple's quick response to the iPhone 4 "antennagate" saga meant that, come the following year, the issue had been largely forgotten. CEO Steve Jobs promised in July 2010 to give device owners a free case until September 30 that would fix the issue, after which date the company would "re-evaluate" the situation. The offer ran out without a follow-up.
With the similarities between the S7 Edge and the Note 7, though, it's not unreasonable to think that Samsung may roll the two product ranges into one and give the S8 Edge some stylus functionality. At least then Samsung would avoid exploding battery jokes.