Supergirl's World Won't Join the Arrowverse in Flashpoint
But Kara will still pay Barry Allen a visit every now and then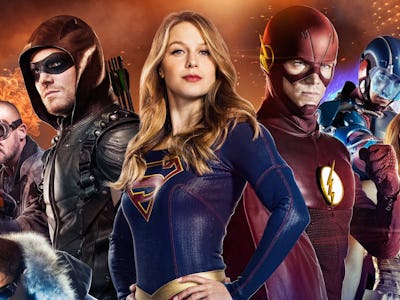 CW
On October 10, Supergirl kicks off its second season with a new home — the CW — but not a new universe. The Kryptonian will join fellow DC comic heroes Flash, Arrow, and the Legends of Tomorrow on the CW network, but much to the chagrin of Arrowverse fans everywhere, it seems Supergirl's universe won't be absorbed into the consistent world of the other three shows.
Despite any comic book connections, Flash and Supergirl live in two very different universes. In fact, Kara only learned of Barry Allen's existence when he crossed into her world from an alternative universe as part of a greater multiverse storyline.
Fans hoped this would mean the two worlds might merge thanks to the Flashpoint storyline that kicked off Season 3 of The Flash. However, Executive Producer Andrew Kreisberg explains that Kara will only visit, and her world will not fully merge with the Arrowverse.
In anticipation of this week's premier, Entertainment Weekly grilled Kreisberg to get all the juicy details.
When specifically asked if Kara's universe will merge with the collective Arrowverse, Kreisberg said: "Not for her entire world, but Kara will be traveling from her dimension to our dimension, 'our' being the world that The Flash, Arrow, and Legends lives in."
However, Kara will team up with Grant Gustin's Flash as part of a highly-anticipated four-episode crossover special, so we'll get to see more great moments like this.