'Black Sails' Season 4 Will Deliver Vengeance for Charles Vane
Jack features prominently in the new Season 4 trailer.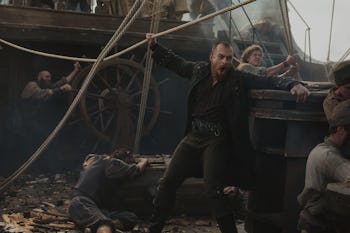 Starz 
The fourth and final season of the Starz high seas epic Black Sails is anchored by a series of cataclysmic events — and Jack Rackham is out for blood.
Silver's rise as the legendary Long John Silver, Blackbeard's growing significance in the narrative, and the looming threat of Spain all weigh on the ragtag captains and crews of Nassau. But perhaps the biggest shadow on the show is cast by the death of Charles Vane who was hung at the end of Season 3. And it looks like it won't soon be forgotten, as Jack Rackham vows vengeance for him in the new trailer.
The trailer also clarifies that mysterious voice who was narrating in the preliminary teaser, as we see it is indeed a new character who appears to be advising Woodes Rogers.
Aside from Jack taking control and looking more pirate-y than we've ever seen him before, we see Eleanor looking panicked, Silver kissing Madi — which affirms our guess that she is indeed his future wife as described in "Treasure Island" as a woman of "African descent" who manages his finances — and a newly bearded Billy, who seems just as doubtful of Flint as always.
Check it out below:
All in all, it seems to confirm that the show will have a strong finish and take its place in TV history with a powerful legacy.
Black Sails Season 4 premieres January 29 on Starz. Expect to see our comic coverage soon, including several videos with the cast and an interview with Luke Arnold and the creators.