The 'Outlast 2' Demo Is a Great Way to Start Halloween 
Red Barrels's free demo is one hell of an experience.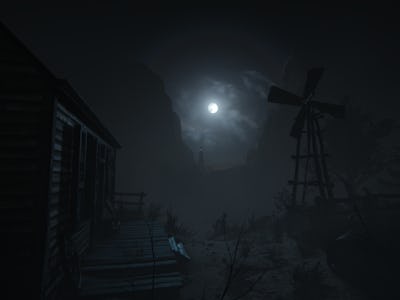 Nicholas Bashore
The month of October has arrived, bringing the traditional array of spooky-themed products and experiences along with it. Once again, horror-themed video games are back in style for the next few weeks.
Among them is the freshly released public demo for Outlast 2, available now on Steam, Xbox One, and PS4. A sequel to Red Barrels's hit Outlast, the game follows two investigative journalists working to uncover the truth behind the seemingly impossible murder of a pregnant woman. After following the trail for awhile, the two find themselves in the Arizona desert surrounded by corruption and madness.
This desert is where you'll be spending your 30 or so minutes with the Outlast 2 demo playing as Blake Langermann. Following a crash that separates you from your wife, you must navigate through a deserted town and corn field in order to meet back up with her.
It was obvious very quickly that the demo feels nearly identical to its predecessor — using detailed atmosphere complimented by well-placed audio queues and jump-scares to keep players on their toes. This time, Red Barrels has a more dynamic approach to level design that mixes moments from Outlast's tried-and-true formula with a more open and chaotic approach to encounters.
Best of all? This approach pays off, forcing players to change the way they think about survival in a way that's different from the original game. Instead of worrying about a single, twisted individual trying to hunt you down, you'll now be navigating through a massive environment filled with a cult full of them. The results are absolutely terrifying, especially when all of Outlast 2's other design elements are at work.
While the demo is only a tiny slice of the final game, it provides a promising teaser for the next chapter coming in 2017. So, if you're looking to get an early start on your Halloween, head over and give it a gander. Just remember, it's only available until November 1, so get it while you can.