McDonald's All-Day Breakfast is About the Power of Choice
Your right to an Egg McMuffin whenever.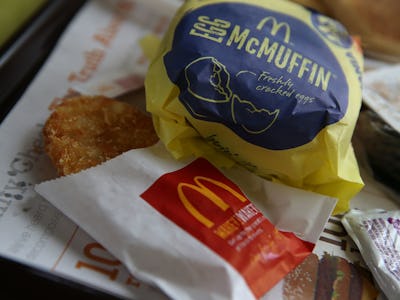 Getty Images / Justin Sullivan
McDonald's recently marked the one-year anniversary of the McDonald's All-Day Breakfast, which rolled out to 14,000 locations with truckloads of syrup and eggs in tow. Though it's probably not the best idea to eat something off the menu more than once a day, twelve months of sales trends — McDonald's profits surged 35% to $1.1 billion over just the first three months of the program — now confirm the supremacy of the most important meal of the day. Naturally, McDonald's is doubling down. The chain will will add McGriddles to the breakfast menu this fall. In doing so it will embrace a new role in consumers' lives and diets.
In a post-All-Day Breakfast world, McDonald's embodies the idea of doing whatever the hell you want. This is particularly significant given that we live in an era when higher-end chains like Chipotle or sweetgreen sell burritos and salads with increasingly fresh, seasonal ingredients and a side of upward mobility. Stepping up to the counter at McDonald's to order an Egg McMuffin and fries in the middle of the afternoon might be a simple act, but it also represents a DGAF mentality. McDonald's now stands opposed to middle class in a way it never did previously.
Not too surprisingly, other fast food competitors have started to look for new ways to get in on the breakfast buzz. Burger King launched the Egg-Normous breakfast burrito earlier this year as a way to stay competitive in the morning. And Jack In the Box just unveiled its Brunchfast menu, which includes options like a Bacon and Egg Chicken Sandwich and the Brunch Burger, which are served all day.
This business strategy is likepay off — it sure has for McDonald's, which has also become (based mon anecdotal evidence) a stronger lat -nightpoption.
Given that, it's likely that McGriddles won't be the end of the menu build up. McDonald's strategy of starting with a more modest number of options and fleshing the thing out over time makes sense. Naturally, the internet is going to have some suggestion on what menu favorite the chain chooses next.
McDonald's breakfast, the all-day version of which hit its first birthday on October 6, also taps into nostalgia to reel people into their restaurants. Many have fond memories of visiting the Golden Arches with their parents or getting treated to the fast food chain for an exciting meal of a Bacon McGriddle and orange juice. For some, a rubbery Egg McMuffin constitutes as comfort food.
Let's raise our OJs to the breakfast insurgence.