Wick Tears Up Rome in New Teaser for 'John Wick: Chapter 2'
He's definitely there for more than just a social affair.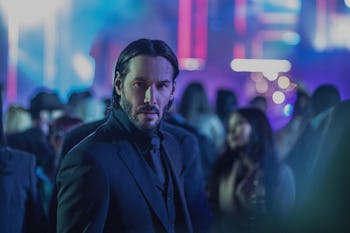 Facebook / johnwickmovie
John Wick is in Rome for a "social affair," but judging by the firepower jammed into the 17-second teaser for John Wick: Chapter 2 released today, his bespoke assassination skills are going to be put to the test. The teaser was just released before we get a full trailer at New York Comic Con this Saturday, and so far, it looks like Wick is definitely going to enjoy the party.
The brief teaser shows Wick looking pensively out on the famed Altare della Patria, the 19th century national monument built in honor of Victor Emmanuel, the first king of a unified Italy. Will Wick be the newest unified king of assassins in Chapter 2? God we hope so.
Read the official synopsis before checking out the teaser below:
Keanu Reeves returns in the sequel to the 2014 hit as legendary hitman John Wick who is forced to back out of retirement by a former associate plotting to seize control of a shadowy international assassins' guild. Bound by a blood oath to help him, John travels to Rome where he squares off against some of the world's deadliest killers.
Behind the scenes photos have confirmed that the new dog Wick saved at the end of the first movie will be back, presumably to be the Robin-esque sidekick to Wick's Batman-ish protagonist, and their travels bring them from New York to classic locales like the Italian capital.
Anticipation is high for the sequel to the surprise 2014 hit about the world's greatest assassin forced out of retirement because some punk Russian gangsters decided to kill his beloved dog.
As viewers found out, you just can't do that to Baba Yaga, and what followed was a perfect action hit that reignited Keanu Reeves's post-Matrix career.
Chapter 2 is set to have a huge presence at New York Comic Con that will include a VR experience based on the first movie before the filmmakers unveil the sequel goodness.
John Wick: Chapter 2 is set to arrive in theaters on February 10, 2017.