AT&T: You're Gonna Need a Separate Data Plan for Your IOT Stuff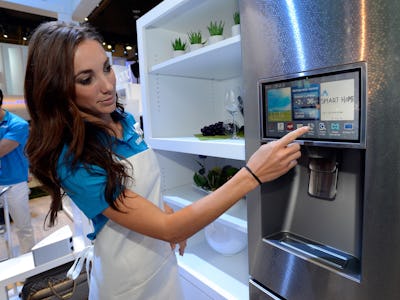 Getty Images / David Becker
Our collective future, dominated by the Internet of Things, might not use heaps of data, but it'll be enough that it needs its own billing plan. Enter AT&T, which on Wednesday announced just that.
The new plan comes with a new network is called LTE-M, and AT&T announced that it was designed to make it cheaper and easier for companies to join the IoT revolution. Basically, you'll probably have something like AT&T's Low-Power Wide-Area network — designed for IoT devices that have "low power consumption, extended battery life, and good penetration in buildings and underground" — in the future.
AT&T will test the networks in San Francisco in November. Samsung has already signed on to test "wearables or other consumer devices" during this pilot program, and other companies plan to test vending machines, smart meters, and similar devices as well. AT&T said it wants to expand the network to its consumer market sometime in 2017; there's no word on when that expansion will finish.
Those matching annual data plans start at 1 gigabyte of data for $25. That seems stingy when it's revealed that AT&T expects that lonely gigabyte to last for 12 months — it doesn't take much data to communicate with an appliance. When compared with smartphone plans, it's a steal — unless you're like, streaming porn on your smart fridge.
While many Internet of Things products aren't great today, AT&T is doing something similar to its research with consumer drones: Preparing both its networks and its bank account for a future in which these devices have become almost ubiquitous.