Google's New Products Are All Built for Advanced A.I.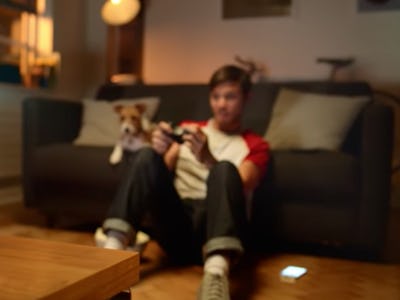 Google
Remember the term "cyber cafe?" In a few decades, the term "smart home" might have the same dated connotation, because with every new product cycle comes yet another application of artificial intelligence for the home. Google became the latest company to support that theory when it debuted a slew of new devices on Tuesday: A new smartphone, a connected speaker, a virtual reality starter kit, and other physical products, all made in-house, were announced. But these products aren't really about Google getting back into hardware. Rather, they're all about letting people take advantage of the A.I. technologies at the company's core.
That's why Tuesday's "Made by Google" portion of its big keynote opened with a discussion about Google's efforts to build smarter artificial intelligence, whether it's with captions or translations, and to feed its Knowledge Graph with more than 70 billion pieces of data. It would be weird for a hardware company to boast about these improvements; it's not weird at all for Google to set the stage for today's announcements by letting the world know how smart its software has become.
Everything, from that Pixel smartphone to the Google Home connected speaker, is built around the company's recent advancements in artificial intelligence. Pixel's standout feature is Google Assistant, which is capable of pulling out relevant information from many apps on the device and presenting it when needed:
That assistant's voice is created using speech synthesis techniques that were revealed by the company's DeepMind team in the beginning of September.
Google Home is also based almost entirely around artificial intelligence. The speaker, like other voice-controlled devices, wouldn't work without the natural language recognition that allows people to control it without having to memorize a bunch of commands. And it would be boring if it couldn't pull from Google's vast Knowledge Graph or control other Internet of Things devices.
Other companies are working on similar projects. Amazon is offering up $2.5 million to convince students to improve its Alexa virtual assistant, and Apple is working on a connected speaker of its own. Google is using these products to convince people that it's smarter than everyone else, or at least that its artificial intelligence is more capable.
Don't think of these products as Google betting the farm on hardware, though. Think of them merely as containers for the company's real focus, which is the artificial intelligence that allows it to answer questions, understand garbled words, or synthesize a voice that sounds less robotic than its counterparts. The Pixel phone, Google Home, and other products are the byproduct of Google's desire to improve its artificial intelligence tech, not the other way around.