10 Spooky Tabletop Games for Your Halloween Game Night
Games for a hauntingly good time.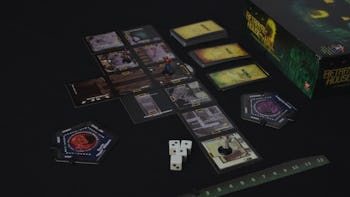 Avalon Hill
October might just be the best month, what with all of the apple picking, the beautiful leaves, apple pie, and scary movies. Why not celebrate the the arrival of autumn and Halloween with some good old-fashioned geeky fun and host a spooky game night? Use our top spooky tabletop game recommendations to throw a party to remember.
Gloom
Edward Gorey meets A Series of Unfortunate Events in this grim, beautifully designed card game dripping with dark humor. Gloom is a game about seeing that your family lives out the most horrid existence imaginable to lower their self-worth. Inflict your loved ones with crippling debt or a plague of flesh-eating mice to really ruin their day and win the game. Your opponents will try to thwart you by cheering your family up and granting them dreaded positive points, and you can pay them back in kind. The player whose family has the worst self-worth is the winner.
Machine of Death
Of a similar dark wit, Machine of Death is a cooperative assassination game wherein the eponymous Machine of Death gives you a target and the cause of their demise. The catch is, the Machine of Death is notoriously vague, meaning sometimes all you'll have to go on are descriptors like "thermonuclear explosion" or "banana peel." It's up to you and your teammates to interpret these clues to devise an assassination plan. Machine of Death is a great exercise in twisted creativity.
Betrayal at House on the Hill
What better way to celebrate Halloween than explore a haunted house? In Betrayal at House on the Hill you do exactly that, wandering room to room through an abandoned mansion. Its all fun and games until you and your comrades start stumbling upon ill omens — and one among you turns out to be evil. Paranoia sets in as you all try to figure out who among you has ill intentions.
Mysterium
Mysterium borrows Dixit's storytelling mechanic and throws ghosts into the mix. One player assumes the role of a mute spirit who sends visions in the form of illustrated cards to the rest of the players. The players, or mediums, then help the ghost solve the mystery of its murder. It's fun to see how your interpretation of the visions differ from that of the person playing the spirit, and it can be quite challenging at times. Regardless, Mysterium makes for a fun evening, and it's a great choice if you're looking for something with less of a competitive edge.
The Village Crone
This is a worker-placement game, but with a twist. You and your friends are witches competing for the coveted title of Village Crone. You send out your familiars to gather resources, which you can then use to create spells to manipulate the villagers or turn them into frogs. The best bit is you have to verbally chant out your incantations for the spell to be effective, adding a goofy spin to your spooky game night.
Fury of Dracula
Based on Bram Stoker's Dracula, Fury of Dracula is a classic game of cat and mouse in which one player — cast as Dracula — attempts to take over Europe while a band of vampire hunters chases him down. The players who are out to stop the fanged one are also in danger if Dracula chooses to turn his attentions toward stopping them, so be wary.
Mansions of Madness
Final Flight Games are experts when it comes to Lovecraftian board games, and Mansions of Madness is a fine example. Even if you're not into H.P. Lovecraft, you'll have no trouble getting hooked. You and your fellow players venture through the streets of Innsmouth, exploring its mansions and fighting the horrifying monsters that cross your path. The second edition's new app simplifies setup and even features voiced narration and sound effects to really set the mood.
Dead of Winter
Dead of Winter takes us a step away from the supernatural with it's more realistic post-apocalyptic setting. You and your friends are a band of survivors looking to survive the winter following the zombie apocalypse. Players work together for the good of the group, putting their survival skills to the test. While you're working towards a common goal, there might be some among you embittered by this harsh new world who could ruin your well-laid plans.
One Night Ultimate Werewolf
Some of the games listed above are pretty lengthy and involved, but One Night Ultimate Werewolf is fun and fast. It's a perfect icebreaker before you get into a longer game. Each player is given an identity, and the party tries to figure out who's the werewolf before time is up. Games last just 10 minutes, but you'll likely want to go for another round or three.
Last Night on Earth
Our final entry is another zombie game, but this one definitely has more of a cheesy horror movie feel. Last Night on Earth is more lighthearted and frantic than it is somber and gloomy. Players split into two teams — one side acting as the zombies while the other the healthy humans. The human team tries to last the night as wave after wave of brain eating zomboids swarm your base.