A Look Back at Creating 'Minerva's Den,' the Best 'BioShock'
Fullbright Company's Steve Gaynor looks back on his time with 'BioShock 2' and 2K Marin.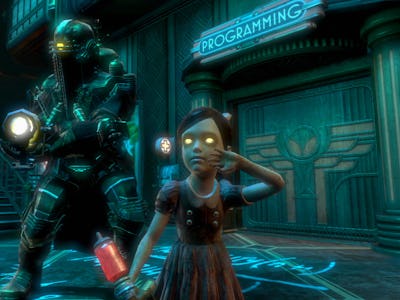 2K Marin
Steve Gaynor has a lot going on these days. The Fullbright Company cofounder is working on the upcoming Tacoma, and Gone Home seems to have done fairly well for itself in addition to being a critical darling. But before all that, Gaynor worked at 2K Marin. He worked on BioShock 2. And more to the point, he worked on Minerva's Den, a standalone DLC that — in a way — feels like the first in a trilogy made out of the games he's worked on.
By his own reckoning, Gaynor was the 16th employee to walk through the doors at 2K Marin. When BioShock 2 shipped? That number had ballooned to 80 to 90 full-time employees. He served as level designer for the main game, but also provided additional splicer dialogue as well as some secondary audio logs. When it came time to do a standalone narrative-driven DLC, well, Gaynor stepped up to the plate as lead designer on Minerva's Den. He didn't stop there, as he afterwards went to Irrational Games and briefly worked on what would become BioShock Infinite with the likes of the divisive Ken Levine, but Minerva's Den is what's mostly closely associated with him.
Minerva's Den, for those unaware, puts players in the shoes of Subject Sigma, another Alpha Series Big Daddy, on his way to Minerva's Den — the programming heart of Rapture — during a series of events that runs parallel to that of the BioShock 2 base game. The 2010 DLC has been spoiled well and truly online since that time, but it's one of the few games where I declined to do so myself. (It's relatively short, and worth making time for.)
"Being given the opportunity to say, 'Here's something I think adds to the idea of what Rapture is and what BioShock is, and a story that seems like it would fit in this world, and expand the idea of what kind of stuff is possible in this world,' was a really big privilege as a fan, and a designer, and a player," says Gaynor. He's actually in the process of downloading the remastered collection as we're talking. He's yet to take a look, but he's heard good things. (Later, he'd tweet praise for the remastered collection's new textures and more.)
"Looking back on it […] and just knowing people still care enough about DLC for a sequel five years later to say that it's worth playing, and that it's kind of retained some relevance over the years… I'm really grateful for that."
Gaynor describes development of BioShock 2's base game as a learning experience for both himself personally and the team as a whole. Not just about specific skills or tools, but how to actually work together. The team learned to be, you know, a team.
"When you've done that, and you're making DLC," he says, "you can be like, 'Oh, okay, well, we know how to make this stuff now, and we have all these art assets, and all of these design systems are solidified and usable, and we can just make the best version of that that we know how to, and expand on it, and emphasize what we think is really compelling about it, and focus on not just how do we make this thing, but, okay, we know how to make this thing, but how do we make something we think is a great version of that?'"
That "we have all these art assets" comment is spot on too, as a big part of DLC like this is reusing what's already been made to get the most bang for the buck. For example, the protagonist in BioShock 2 is a Big Daddy — so the Minerva's Den protagonist also had to be one despite it not being otherwise associated with the game directly. Those constraints are what made the DLC what it is.
"We had to say, like, 'What's another thing that a Big Daddy could be? What's a story you could tell?' You've got constraints," Gaynor says. "It's not going to not be set in Rapture. It's not going to not be a Big Daddy, because that's what we have. It's not going to not have Big Sisters and all the core systems in it."
Instead, the task is looking at those immovable certainties and plotting the course within their boundaries. The difficulty is in using them as a lens through which to create new experiences. But Gaynor sees those constraints as valuable, even now. You can't just roll up with a brand new idea for everything. You have to recycle familiar bits and pieces into something entirely new. He compares it favorably to a sort of improv.
"What do you do in the space that's left over?" Gaynor asks me. I don't have an answer for him, but I'm not sure he's looking for one.
"As a designer," he says, "as someone that gets to be the lead on something — or as just a level designer in a game's campaign — I think you tend to, either consciously or subconsciously, be like, 'Well, I want my part to be the best part of the game. I want to make the best level in the game, whatever form that takes.'"
He pauses a moment before continuing.
"I think you're always trying to say, 'How can I do the best work possible on this?' And so if people look at the whole package and go, 'Well, Minerva's Den, that's what you should really play.' On some level it means that we were, as a team, able to do our best work at fulfilling the potential of what was in that game."
This interview has been edited for brevity and clarity.