Bike Lanes Need to Be Wider to Truly Improve Public Health
Bike lanes are still incredibly dangerous.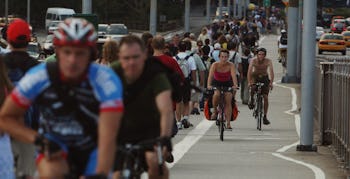 Getty Images / Mario Tama
A recent study shows that bike lanes aren't just hip and good for the environment, they're good for public health too. For approximately every $1,300 New York City invested in building bike lanes in 2015, the investment provided benefits equal to an additional year of life at full health over a lifetime to residents. The means, on average, bike lanes are more effective at bettering public health than dialysis, which is a pretty big deal.
The problem? Bike lanes are still incredibly dangerous.
Take New York City, for instance. By August of this year, there were 15 cyclist deaths in the city, eight of which were in Brooklyn — a borough generally considered more friendly to cyclists.
According to the Department of Transportation, bike lanes should be a minimum of four feet wide. Protected bike lanes in Manhattan range between 6' and 9' wide. But many bike lanes still remain unprotected, especially in Brooklyn, and 6' is still cramped when you consider the increasing number of cyclists in the city. For example, the number of bikes on the Brooklyn Bridge doubled between 2008 and 2015 and the number of pedestrians tripled in that time. Yet at its narrowest, the path is only 8 feet wide for over 3,000 daily cyclists.
It's also important to mention that the study touting the quality of life benefits of bicycle lanes only looked at protected bike lanes (which are buffered from traffic either using a barrier or parking). Only 24 percent of bike lanes in New York are protected.
So how could New York actually solve its bike lane problem? It starts with building more bike lanes. In September, New York City Mayor Bill de Blasio announced that the city will install 18 new miles of protected bike lanes, including in the highly trafficked Lower East Side. But in order to meet the city's "Vision Zero" goals of doubling cycling by 2020, the city will have to do a lot more.
The city could take a cue from Portland's transportation plan, which aims to completely reimagine how highways connect to outskirts of the city. Or the city could develop a bike highway in the vein of Paris' Réseau express vélo, a 28-mile superhighway that will be complete by 2020. A dutch company already has a design that would fit the bill. Your move, De Blasio.