Here Are 4 New Things Added to Apple's Future Headquarters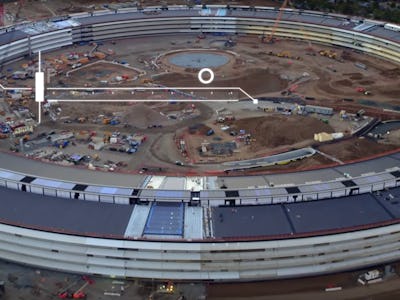 Duncan Sinfield / YouTube
Apple wants to move into its spaceship-resembling headquarters in 2017, and two new videos from drone photographers Matthew Roberts and Duncan Sinfield published on Friday show the quick progress made on the campus in September.
The new campus was first revealed in 2011 when Apple co-founder Steve Jobs proposed it to the Cupertino City Council. Apple chief executive Tim Cook then announced the company's plans to make the headquarters a reality, and offered a preview of the facilities during a keynote event in March.
Roberts and Sinfield have steadily published new drone-captured videos showing the progress on the headquarters.
Here are some changes revealed in this month's updates.
Installation of solar panels has continued
Many cranes have left the construction site
Landscaping has begun with new trees planted
Parts of the building's facade now glow
Roberts shot his video with a DJI Phantom 3 Professional; Sinfield's was recorded using the DJI Inspire 1 Pro. While both videos are called the "October update" on Apple's second campus, they were both shot during the month of September.