Kids Might Have Mined the Cobalt in Your Phone's Battery
Cobalt is mined by hand in Congo and sold to a variety of tech companies.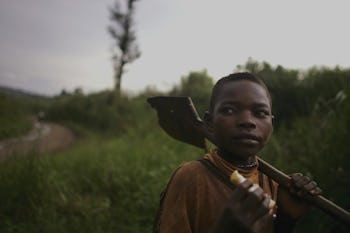 Getty Images / Spencer Platt
There's a good chance that the device you're using to read this article is powered by a battery which might contain the results of child labor, abysmal wages, and a severe lack of oversight for the supply chains of many tech companies. Or, as the material used to create many modern batteries is more commonly known, cobalt.
A scathing investigation by The Washington Post reveals how cobalt is mined by hand in Congo, sold to a variety of Asia-based tech companies, and then used to create the rechargeable lithium-ion batteries used in everything from smartphones to electric vehicles.
The report describes harsh working conditions for these miners, who sometimes toil through the day and night for the equivalent of $2. Children are also used to clean the mined cobalt, haul it around in heavy sacks, and otherwise contribute to the mining of the mineral on which modern technology is built. Yet many companies are unaware of how the cobalt they use is pulled from the earth.
This is at least partly because of how much we rely on rechargeable batteries. Companies face intense pressure to improve the battery life of their products. This results not only in a lack of oversight into how the batteries are made, but also in exploding smartphones, hoverboards, and e-cigs on the other end of the cobalt-to-battery pipeline.
Elon Musk, Bill Gates, and the U.S. Advanced Research Projects Agency-Energy, among others, have all been searching for ways to make better batteries. Those efforts could result in less reliance on cobalt, which could give companies a chance to be more careful in their sourcing of this nigh-ubiquitous mineral without having to worry about their bottom lines.
For now, though, this investigation is a stark reminder of the working conditions that allow modern devices to function. While much of the world worries about the iPhone's battery life, reports like this might help encourage companies to worry more about the lives behind the batteries.