Google's Guest of Honor Ezekiel Mutua Is a Raging Homophobe
Mutua is in charge of making sure broadcasted content in Kenya aligns with the country's homophobic values.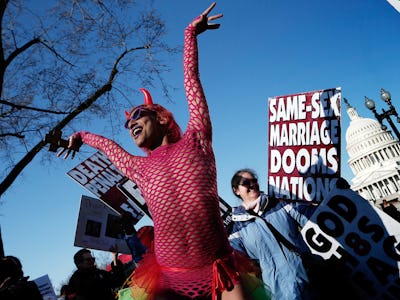 Getty Images/Win McNamee
Google usually manages to come down on the right side of many social issues, but the guest of honor at the company's Web Rangers global summit on digital literacy and safety this weekend is a hateful, homophobic embarrassment.
Google invited infamous Kenyan anti-gay spokesperson Ezekiel Mutua to attend the conference even though Mutua presumably has more ideas on how to make the internet a more dangerous place than he does constructive ones.
Mutua is the head of the Kenya Film Classification Board (KFCB) and most well-known abroad for his staunchly anti-gay mission to ban any content promoting homosexuality. Mutua is in for a rude awakening at the conference in Mountain View, Calif. as he will most likely be surrounded by hoards of attendees dedicated to making the internet safer, not scarier than it already is. To give you an idea of how much Mutua doesn't belong at this conference, here are some things he's said and done in the past.
He censored "Same Love" by Macklemore on YouTube
Earlier this year, Mutua launched efforts to censor a song on YouTube that advocates gay rights, a Kenyan remix of the song "Same Love" by Macklemore. "We are happy that the music video has been pulled down following a request we made to Google," Mutua said according to Quartz, although the video was not officially removed but flagged as "potentially inappropriate" by Google for Kenyan viewers. The KFCB said the song and video for "Same Love" threatened to turn Kenya into "Sodom and Gomorrah."
He banned an LGBT film
In 2014, Mutua banned the film Stories of Our Lives about the LGBT community in Kenya made by an arts collective called Nest. An official statement from the KFCB said, "The decision to decline approval of the said film was because the film has obscenity, explicit scenes of sexual activity, and it promotes homosexuality which is contrary to our national norms and values," Nest's official site reports.
He banned a show hosted by "popular lesbian celebrities."
Just last month Mutua banned a TV show hosted by actor Nini Wacera and singer Kaz, who Mutua referred to as "popular lesbian celebrities." "It is important to note that lesbianism is prohibited by the laws of Kenya," Mutua wrote in an official statement, according to the Nairobi Wire. "Further section 162 to 165 of the Penal Code criminalizes homosexual behavior with a penalty of 5 to 14 years of imprisonment."
He called himself the moral police
In August, Mutua appeared on NTV Kenya, one of Kenya's major news channels, for an interview about the KFCB's regulation of broadcasted content. When asked, "Do you see yourself as the moral police?" Mutua accepted the title, and continued, "To the extent that we're trying to regulate content and bring some sanity into the manner with which people conduct themselves especially on TV and within the broadcast sector."
He flaunted his privilege like a child
Mutua's most antagonistic behavior to date, however, is related to his questionable procurement of a diplomatic passport to travel to Google's internet conference in California. Mutua took to Facebook to brag about how seamlessly he obtained this Visa that is often denied to everyone else in Kenya.
To add salt to the wound, Mutua posted a selfie aboard the plane to the United States.
INSPIRING PLOT TWIST:
While the taunting photo of Mutua comfortably reclining on his way to America may anger you, you'll be excited to find out that Mutua was reportedly ordered to surrender his diplomatic passport today, according to The Star. An official from the immigration department said Mutua does not qualify to hold a diplomatic passport, and that it will be exchanged for a normal one.
Mutua is many things: an outspoken homophobe, an unflinching KFCB leader, a morality cop, but diplomat is certainly not one of them.