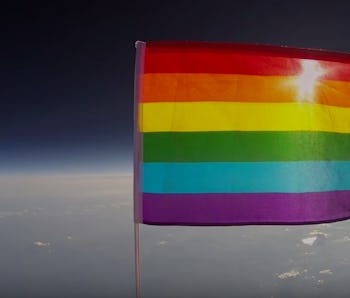 Science
Space Is Now Gay AF
Nonprofit LGBTQ organization Planting Peace launched a Pride flag into outer space. 
Youtube/Planting Peace
In an effort to make the entire universe more accepting, LGBTQ activists have quite literally launched an otherworldly campaign. Progressive nonprofit organization Planting Peace sent a Pride flag into space using a weather balloon, marking the first time the rainbow colors have gone beyond Earth's atmosphere and officially deeming outer space an LGBTQ-friendly environment.
An official statement from Planting Peace explains the organization's motives for expanding its efforts to the rest of the galaxy:
Our hope was to create the largest safe SPACE possible for our LGBTQ community. It also offered us a chance to reinforce, in a peaceful, beautiful way, our ongoing message to our LGBTQ family: 'You are loved, valued and beautiful. There is nothing wrong with you. You are not alone, and we will stand with you.'
President of Planting Peace, Aaron Jackson, told the Huffington Post that the new campaign "provided a wonderful opportunity to show that Planting Peace will not stop fighting for LGBTQ rights until all sexual and gender minorities experience full, fundamental rights in every corner of the universe."
This isn't the first time that Planting Peace has used an attention-grabbing large scale PR stunt to spread its ideology of acceptance: the nonprofit is lauded for painting a house rainbow across the street from the infamously homophobic Westboro Baptist Church in 2013 and erecting a billboard in Kim Davis's hometown featuring a message that shut down the notorious same-sex marriage opponent.
To achieve this particular stunt, Planting Peace attached a GoPro to a high altitude weather balloon carrying a rainbow flag and launched the apparatus from Milwaukee. The flag was airborne for slightly over three hours before floating back down and reached a peak altitude of 21.1 miles above Earth's surface.
Although the rainbow flag is no longer orbiting beyond Earth, its brief trip to outer space added a much-needed burst of color to the darkness.