FCC Cancels "Unlock the Box" Vote
Surprise cancellation leaves the proposal in limbo.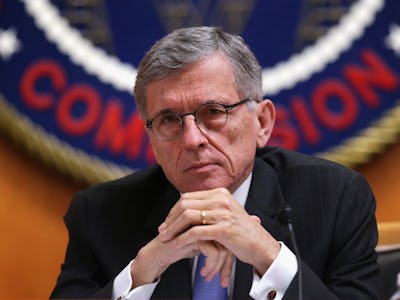 Getty Images / Alex Wong
The Federal Communications Commission abruptly canceled its scheduled vote on a proposal that would give consumers more control over the set-top boxes used to access their cable subscriptions during Thursday's Open Commission Meeting.
"We are still working to resolve the remaining technical and legal issues and we are committed to unlocking the set-top box for consumers across this country," reads a joint statement from FCC chairman Tom Wheeler and commissioners Mignon Clyburn and Jessica Rosenworcel.
The proposal, which has gone by the slogan #unlockthebox, was introduced by Wheeler in February. After a long back-and-forth about the proposal, the FCC's five-member leadership team was supposed to decide its fate at today's meeting.
"The order will be placed 'on circulation,' which means it will remain under consideration by the Commissioners and they can vote when the remaining details have been finalized," FCC press secretary Kim Hart told Inverse. "There is no official timeline for a vote."
A document announcing the cancelation of today's vote on Wheeler's proposal doesn't explain why it was canceled, when it will be held, or what this means for the proposal.
The decision to cancel the vote appears to have been made this morning. The FCC tweeted on Wednesday that #unlockthebox would be discussed today:
Another tweet explained the purpose of the #unlockthebox campaign:
Yet FCC secretary Marlene Dortch said at the beginning of Thursday's meeting that the proposal has been removed from the agenda. The next Open Commission Meeting is scheduled for October 26. The proposed agenda for that meeting has not been published.
The statement from Wheeler, Clyburn, and Rosenworcel also says the proposal "remains under consideration" by the FCC's leadership team.
Rosenworcel is widely considered to be the swing vote on this proposal. (The FCC's leadership must reach a majority for proposals to be adopted.) Some have speculated that Rosenworcel faces intense pressure on this proposal because she has not been reconfirmed by Congress, which means her job is on the line.
She is also said to have problems with the bill in its current form, according to the New York Times, and this delay might be designed to give the commission time to find a compromise.
Comcast senior executive vice president David Cohen said in a statement that he supports the FCC's delay. "The FCC made the right decision this morning to delay its vote on the set-top box item," he said. "It is now critical that the Commission heed the bipartisan calls of dozens of Members of Congress and respected third parties and release its new proposal and associated rules to allow the public to provide comment. This is an extremely complicated and technical item that should not be adopted without the opportunity for expert and public input."