5 Things a 'Firewatch' Movie Needs to Have
5 things the movie needs to stay true to the game.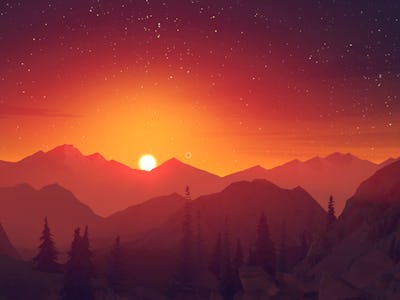 Campo Santo
The narrative to Firewatch was simple: a forest, an explorer, and the constant threat of disaster in a beautiful natural landscape. And now, those themes might come to the big screen.
In a surprise announcement, Firewatch developers Campo Santo revealed that they have entered in an agreement with Good Universe to collaborate on future video games and films. Their first project together will be to turn Campo Santo's hit indie game, Firewatch, into a feature film.
This news was shocking given that film adaptations of video games tend to choose multi-million dollar, blockbuster projects like Assassin's Creed and Tomb Raider. While a financial and critical success, Firewatch is comparatively smaller than some of the previous video game franchises that films that have been optioned from.
As such, there are some things that a potential Firewatch film should have to differentiate itself from other video game films while highlighting the game's unique strengths.
1) Keep Things Small
At its core, Firewatch is the story of two people, and only one person is ever really seen. While there are a couple of extras like a partying group of teenagers, and two other Firewatchers who never breach into the main story, the central duo of Henry and Delilah are the only two characters a Firewatch movie needs to be both true to the source material and a unique film adaptation of a video game.
2) Nature
The game takes place in a Wyoming National Park. Whereas the strong characterizations of the main cast endeared players to the game's narrative, the breathtaking natural setting helped create a competing, secondary narrative about appreciating nature. If a Firewatch film were to succeed, it would be wise to stay true to one of the best settings in video games.
3) The Original Duo
In the video game, Henry was voiced by Mad Men's Rich Sommer and Delilah by Cissy Jones. Having both actors reprise their roles would allow the film to keep the best assets from the original game: the connection between Henry and Delilah.
4) Delilah's Presence
The decision to never actually depict Delilah in the game is cause for some reevaluation. On one hand, it allowed players to cut past the initial misgivings that come with physical appearances, allowing for a more direct connection. On the other hand, there are some who might see the story of a man falling in love with a woman's disembodied voice to be a kind of male fantasy. Whether or not the film decides to show Delilah, her "presence" is probably the film's biggest challenge.
5) The Ending
There might be a desire to soften Firewatch's brutal ending. The ending of Firewatch subverted many of the misgivings caused by some of the game's design choices, like not depicting Delilah in-person. The ending was exactly the one Campo Santo wanted to tell, and to alter something as somber as Firewatch's ending would defeat the purpose of the film adaptation.