The Internet's Best Plane Crash Simulator Is a Cagey 18-Year-Old From Manila 
Allec Joshua Ibay has been using Flight Simulator to recreate tragedies. He's really good at it.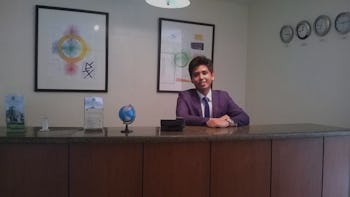 Allec Joshua Ibay
Allec Joshua Ibay, an 18-year-old from Pasig, a district of Metro Manila, has been making YouTube videos of plane crashes using Flight Simulator 2004 since May 2015. He has recreated everything from notable disasters like the Tenerife Airport crash and the Lockerbie bombing, to the downing of Delta Air Lines Flight 191 in 1985. His most popular video, a recreation of the World Trade Center North Tower attack, has received nearly six million views since it was uploaded a year ago. Because the videos are made in a simulator, they are austere and unnerving. Ibay's directorial style can only be described simplistic. He's basically doing the crash scene of Sully over and over again, but without the orchestra or the emotion. His specialty is just planes going down. They all go down.
After watching his videos with a mixture of horror and awe, Inverse caught up with Ibay to find out a bit more about his process, and what motivates him. He didn't want to get into too much detail, but it became clear quickly that he's more than a kid playing with a computer program. He's a scholar of airborne mayhem.
So I think the first question everyone has is: Why are you making videos of aviation disasters?
I make these videos because I simply love aviation. These air disasters have great and sad stories, and it educates people on aviation safety.
What is the appeal of watching the disasters? Is it different than watching a train crash, or other kinds of disasters?
As I told you. I have a passion for flying.
Could you run us through the process?
I can't divulge too much detail about how I do it, because, if others would know then they might copy it. I also have no specific way of choosing a disaster. I just do it. But if a disaster has something really interesting about it, I would put it in priority, as I also think that my viewers would find it interesting.
How did you first get involved with the idea?
I watch a lot of air disasters and I had my flight simulator. I told myself 'Why not? People might enjoy and learn from this.'
Do your friends or family know? What do they think?
My family knows. They support me.
Which one are you most proud of?
I am proud of all of my videos. They are all made with intense research and effort, and I am just proud to see people watch them.
I noticed in the comments that sometimes people will request disasters. Which requests stand out to you?
I consider all requests but I have my own to-do list. Some requests are impossible at this time as they are either still under investigation, or the articles I find about it online are not detailed enough.
What is the main challenge when building these videos?
The main challenge is simply whether I have recreated them realistically. I can say a video is realistic by comparing it to several articles, videos, etc. about the crash. I use stories from Mayday, Seconds from Disaster, Wikipedia, Planecrash.info, and other sources to verify that what I am doing is authentic.
Is anyone doing anything similar? Who stands out to you?
A lot of people have done these kinds of videos long before I have, but I am the only one, as far as I know, who is fully committed to doing them.
What's the plan for the future of the channel?
My channel plans? I don't intend to divulge information on that.