'Magnificent Seven' Is What People Want in a Western Now
'The 'Magnificent Seven' tops box offices with a modern western.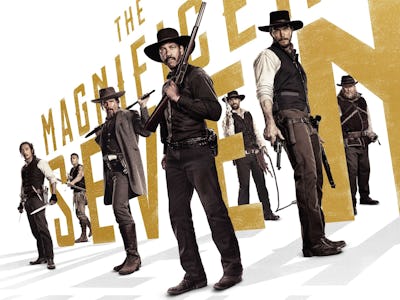 Columbia Picture, Metro-Goldwyn-Mayer
This weekend's big winner is Antoine Fuqua's The Magnificent Seven, a modern remake of the classic cowboy western of the same name, which in turn was a re-imagining of Akira Kurosawa's Japanese classic, Seven Samurai. Despite this retread, 2016's Magnificent Seven is set to become one of the biggest westerns of all-time, grossing nearly $35 million so far.
The Magnificent Seven stars Denzel Washington as a bounty hunter hired by a town threatened by an evil industrialist (Peter Sarsgaard). Washington and six compatriots — including actors like Chris Pratt, Ethan Hawke, and Vincent D'Onofrio — band together and use their specific skills to defend the town from Sarsgaard's marauding raiders.
Film analysts often say that western films tend to face difficulty reaching wide audiences in today's cinematic landscape. However, The Magnificent Seven's success can probably be attributed to the fact that it's less of a traditional western than it is an action-thriller set in the west. The modernization of the classic film with a star-studded cast has connected with an audience that hasn't turned up for a western in such large numbers since 2011's Cowboy and Aliens.
Inverse found the film to be a glorious reclamation of the western, unafraid of changing a worn-out genre.
In a distant second is the Warner Bros. Animation's Storks, which follows the misadventure of a stork trying to deliver a lost baby back to her proper family. Warner Bros. hasn't made an animated hit since The Lego Movie, but Storks's almost $24 million gross and A- Cinemascore means that Warner Bros. is providing popular animated alternatives to Disney, Pixar, and DreamWorks.
Sully, Bridget Jones's Baby, and Snowden round up the rest of the top five. Each of the films debuted earlier this month, and aside from Clint Eastwood's Sully — which is still performing well in its third week — they've all faced significant drops after their first weekend.