'Blair Witch' and 'Snowden' Both Disappoint at Box Office
Estimates suggest neither cracked $10 million this weekend.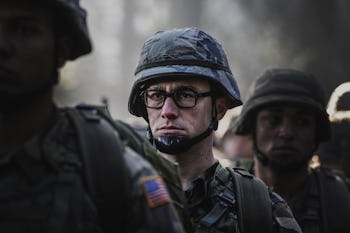 Based on the weekend box office estimates, Blair Witch is no The Blair Witch Project. Hell, forget about being a crossover pop culture phenomenon: Blair Witch isn't even a Don't Breathe. Despite early box office projections in the $25 million range — which Blair Witch's distributor Lionsgate lowered to $15 million — the film looks like it might not have even cracked the $10 million threshold.
Current estimates suggest it brought in only $9.65 million on a nationwide release of more than 3,000 screens. That's not great, especially in the context of The Blair Witch Project's lingering pop culture cachet — even allowing for the fact the original movie came out 17 years ago — and the fact that low-budget horror movies have generally been doing really well at the box office, with Don't Breathe now having passed the $100 million mark in combined domestic and foreign ticket sales. The movie's budget was only $5 million, though with estimated marketing costs of $20 million, it's hard to spin this as all that much of a positive.
Then again, there's Snowden, which brought in just a little more than $8 million on a much higher $40 million budget. Playing on fewer than 2,500 screens, the Edward Snowden biopic did at least have a slightly higher per-screen average than Blair Witch, but that's a wide enough release to indicate there's not a massive untapped audience for this film. Indeed, compare that with another movie based on recent current events: Sully made $22 million in its second week, bringing its total to $70 million. It's probably not all that surprising that the American filmgoing public is more interested in watching Clint Eastwood and Tom Hanks tell Chesley Sullenberger's story than they are seeing Oliver Stone and Joseph Gordon-Levitt tell Edward Snowden's — especially when those most interested in the latter have likely already seen Citizenfour — but there we are.
It's an ignominious end for Snowden, which saw multiple delays from December 2015 to May 2016 before finally coming out this weekend. Neither it nor Blair Witch have gotten especially bad reviews — Snowden actually has an "A" CinemaScore grade from audiences, for whatever that's worth — but neither has received the kind of notices that suggest either is worth another look. As ever, let's just blame that ridiculous voice Joseph Gordon-Levitt used, which makes Benedict Cumberbatch's Julian Assange voice sound downright restrained by comparison.