Joseph Gordon-Levitt's Edward Snowden Voice is Ridiculous in 'Snowden' Trailer
Oliver Stone's over-the-top biopic will be the film to see (and wonder how it ever got made) this fall.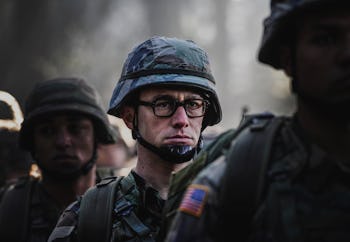 SnowdentheMovie/Photos
Joseph Gordon-Levitt doesn't look much like Edward Snowden, and he certainly doesn't sound like him — at least, not in this first trailer for Oliver Stone's biopic of the NSA dissenter, the latest in a long line of recent and impending drone-related movies.
This behemoth, which hits theaters in the fall, isn't going to confine itself to the events that put Snowden in the news: the covert leak of classified NSA intel to Glenn Greenwald and Laura Poitras (as captured in Citizenfour) and its aftermath. No, we'll see the better part of Snowden's life, and a lot of Joseph Gordon-Levitt doing a very silly, low-pitch, hyper-dramatic Snowden voice. Those of you who have seen Citizenfour will recognize that the only thing with the potential to be more annoying than Edward Snowden's actual voice is Joseph Gordon-Levitt attempting to imitate Edward Snowden's voice (recall, if you will, JGL's French routine in The Walk?)
Take a listen for yourself:
Also appearing in the film: Zachary Quinto (ridiculously aptly cast) as journalist/crusader Glenn Greenwald, and Melissa Leo as Laura Poitras, his Pulitzer-winning colleague. Shailene Woodley plays Snowden's oblivious (but loyal!) girlfriend Lindsay Mills. Nicholas Cage is Snowden's NSA commander, "How'd it get burned?"-core as always. Rhys Ifans is another military dude. Tom Wilkinson plays Ewen MacAskill, the other primary Snowden-leak journalist. It really makes too much sense.
There is plenty to look forward to here for fans of bloated, absurdist Hollywood film — Stone is, especially from Any Given Sunday to *Wall Street: Money Never Sleeps*, its greatest auteur. Get ready for plenty of melodramatic jargon, superimposed CGI explanatory diagrams (you gotta understand how data systems work!) and nauseating montages.
Dont miss Snowden: It's already the most ridiculous film event of the year.