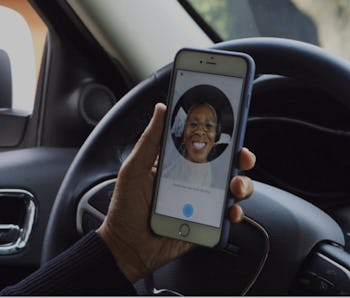 Innovation
How Uber Uses Facial Recognition to Stop Driver Imposters
Welcome to Uber's "Real-Time ID Check."
Imitation may be the best form of flattery, but Uber isn't thrilled with the rising number of drivers posing as registered employees of the company. On Friday, the company rolled out a feature that would require drivers to identify themselves with a selfie before going active on the service and then periodically take selfies in the app before accepting rides.
The "Real-Time ID Check" uses a facial recognition software designed by Microsoft to instantly compare the selfie to the photo of the driver on file. If the two selfies taken by the driver don't match, the account is locked.
Uber partnered with a Chinese facial recognition company to launch the feature in China in April. Today the feature will be available in select cities across the United States.
"During our pilot of Real-Time ID Check over the past few months, the majority of mismatches were due to unclear profile photos," Uber security chief Joe Sullivan said in a press release. "And more than 99 percent of drivers were ultimately verified. Given that verification takes only a few seconds to complete, this feature proactively and efficiently builds more security into the app."
While the new feature will reduce occurrences of drivers sharing their app with unvetted friends, the new features do not prevent drivers outside of the system from posing as employees. This summer there were several reports of assaults by men posing as Uber drivers. Fake drivers also managed to fleece tourists at the U.S. Open, charging up to twice as much as an official Uber ride would have cost.
The security screening for Uber drivers came under heat in February when the company said that they wouldn't change their policies after one of their drivers went on a shooting spree that killed six people in Kalamazoo, Michigan.
The new feature is just one of many released by Uber in the last year to beef up user safety. In March, Uber released a "Critical Safety Line" to report any emergencies while using the service and in January the company unveiled technology to monitor drivers for speeding.