Uber Will Not Change Screening Policies After Kalamazoo Shooting
The company stands by its security practices after driver kills 6 people.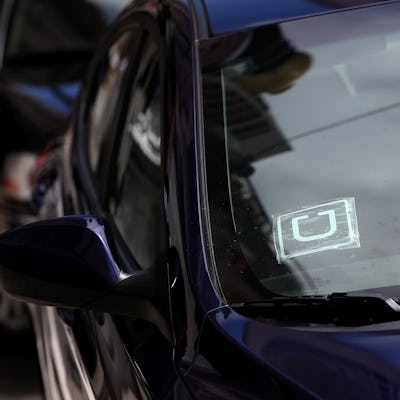 Getty
After an Uber driver went on a shooting spree that left six people dead and two injured in Kalamazoo, Michigan on Saturday, representatives from the ride sharing app announced that they would not be making changes to their security protocol as a result.
Uber's Chief Security Officer Joe Sullivan repeatedly defended Uber's security processes, which involve extensive internal background checks but do not utilize fingerprinting services, during a conference call with the press on Monday night.
"I don't think that we will change our screening processes for on-boarding new driver partners as a result of this incident," Sullivan said. "No background check process would have flagged or anticipated this situation, so I don't think that we will be contemplating a change there."
The shooter, Jason Brian Dalton, had no prior criminal record, and had passed Uber's background checks and begun driving about a month earlier, on January 25. Dalton had a 4.7 out of 5 rating on the app's internal rating service, and had driven approximately 100 rides at the time of the shooting. Uber has a policy that no firearms are allowed in vehicles using their service.
Before taking on riders, Sullivan said prospective Uber drivers go through a rigorous background check process. The company collects the driver's information, including name, driver's license and social security numbers, bank information, and all known addresses for the past seven years. Sullivan said Uber then checks this information against local, county, and federal databases for each of the drivers' provided addresses, sometimes sending a representative to look at county court records by hand if digital records are unavailable. The company does not use, and will not begin using, the federal system of fingerprint checking, said Margaret Richardson, a member of the Uber Safety Advisory Board and former counselor to U.S. Attorney General Eric Holder. Richardson said that fingerprint checks often run people's information through law enforcement databases that include "false positives," including incidents where an individual had been arrested, but no charges had been filed or the charges had been dropped. This, Richrdson said
"I think it is a false premise to say that fingerprint checks are more accurate or would provide better screening," Richardson said.
In the case of a "false positive," she said, "it would be inappropriate to screen someone from driving, and it can also lead to an incredibly discriminatory result. The background checks and the background screening that Uber has in place prevents those sort of exclusionary and discriminatory results from happening."
Sullivan and his team also responded to a series of questions about the implementation of a "panic button" into the U.S. version of the app.
Uber has a panic button built into the version of the app used in India, which automatically transmits rider, driver, and GPS data to cooperating law enforcement agencies when a rider feels unsafe, but Sullivan said the company has no plans to release such a feature in the United States.
"In the United States, 911 is the panic button, and it's the panic button that we want people to use, it's the panic button that law enforcement wants people to use, and we don't want to try to replace that," Sullivan said. "It would be a stretch to try to do better than the 911 system and we don't want to do that."
Uber received several complaints from passengers toward Dalton the night of the shooting, who said he was driving erratically, but none reported violent behavior. Sullivan said Uber will suspend a driver's service immediately if a passenger reports violent behavior, but will usually try to process complaints about bad driving less quickly, speaking to the driver first and trying to get both sides of the story. One passenger called 911, which Sullivan said was the right decision, and something the company wanted to encourage if passengers feel unsafe.
Ed Davis, a former Boston Police Commissioner and member of the Uber Safety Advisory Board, explained why the app would continue to rely on 911 for emergency situations.
"When there's an ongoing crime, especially a violent crime, you don't want to confuse people about who they should be notifying, and you particularly don't want to notify a corporation that's some distance away from the incident occurring," Davis said. "You need to get police who are on the ground close to the incident directly involved in it. When the police are responding they can call into the company and Uber can help them in getting all of the background information, but you don't want to set up a second system that can will not only confuse people but may delay help when it is desperately needed."
According to Sullivan and his team, Uber has been working with law enforcement constantly since the attacks to provide any data and support possible. Sullivan said Uber has safety and support staff on hand 24/7, one of whom was able to be on scene in Kalamazoo shortly after the attacks.
Richardson also noted the amount of attention being paid to Uber, which has weathered other public relations difficulties, was disproportionate in this case as opposed to the larger issue of gun control in America.
"I do think that in many ways this focus on Uber is a distraction from the availability of guns, and guns perhaps in the hands of people who shouldn't be able to have such easy access to them," Richardson said. "This question of background checks is not relevant, because a background check wouldn't have affected this person's ability to drive anyways."
Authorities are still struggling to establish a motive for the Kalamazoo shooter's senseless acts. Though blame will inevitably be passed around for various reasons, Uber is standing by its existing protocols and security screening for the time being.