It's the Equinox, Baby: Astronomists Say Fall Is Finally Here
Break out the sweaters and go stargazing.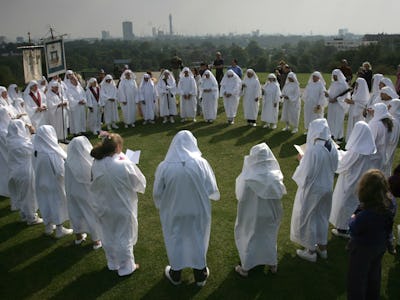 Getty Images / Matt Cardy
You know what it is, sweaty people who are tired of summer: it's jacket season, flannel time, jeans and boots, you name it. It's the equinox, and for those of us who love layering (or like, football), it's the best time of year: F-A-L-L. Today at 10:21 a.m. Eastern time, it officially became fall in the Northern Hemisphere and spring in the Southern Hemisphere. The equinox, which occurs between the 22-24 each September, is when the sun shines directly on the equator and the length of daytime and nighttime is nearly equal.
In 2015 the equinox fell a day later, on September 23. Around the event cities in the Eastern Time zone start losing around three minutes of daylight per day, meaning the nights will start getting longer. Essentially, it's time to kiss goodbye to summer.
On the bright side, the equinox also makes it possible to see objects in space that are obscured during other times of the year.
Saturn is normally best seen in the summer during its annual opposition with the sun, but you'll have a chance to see the shining giant in southwestern skies all week. If you look roughly 20 degrees above the horizon, you should be able to see it. You can also see Antares, the brightest star in the Scorpius constellation, about six degrees south of the planet.
At the same time that we mark the autumn equinox, there will be a seasonal change in the stars that dominate the overhead evening skies. At mid-northern latitudes Deneb, a blue-white star that is roughly 1,400 light-years away, will take center stage.
While Starbucks may have dubbed it pumpkin spice latte season weeks ago, meteorologists and astronomers have their own disagreements over when the season actually starts. Meteorologists say that the season officially starts September 1, despite the fact that you may still be wearing sandals.
This year's winter solstice, which marks the shortest day of the year, will be December 21, so you still have some time to lock down that winter cuff before things get chilly.