Cryptic 'Ghost in the Shell' Teasers Tease ScarJo Motoko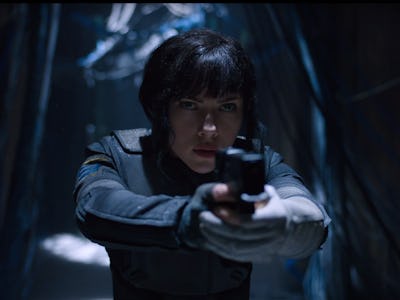 YouTube.com/Paramount Pictures
After a lot of backlash over the caucasian Scarlett Johansson playing the Japanese Major Motoko Kusanagi in the live-action adaptation of the classic anime Ghost in the Shell, the first teasers for the film appeared online late Wednesday night.
Owing a lot to The Matrix, Cloud Atlas, and Alex Proyas's Dark City, and a variety of other cyberpunk stories, this first look at Ghost in the Shell is impressive, complicated issues on minority representation notwithstanding. In the teasers, Johansson's Motoko wakes up and apparently becomes sentient while also approaching a cabal of monk-looking beings hooked up to a machine.
There are also noteworthy appearances of other characters. In the first shot, there's a stylized geisha, who is likely a subject of the Puppet Master, one of the most notable antagonists from the original film and manga. Takeshi Kitano (director of 2003's Zatōichi) is also seen as Chief Daisuke Aramaki, the loyal leader to his Section 9 soldiers, shooting a revolver at an unknown victim before abandoning it. There's not a heck of a lot to go on, but his demeanor suggests a reluctant betrayal on his part.
The problem fans had with Ghost in the Shell was never that they thought it wouldn't going to look visually appealing or that it would veer from the source material (although Hollywood doesn't have the best track record with anime). And Johansson's acting skills weren't in question, either. Rather, it was always a matter of Hollywood's refusal to give starring roles to actors of color in movies even when the source material demands a person of color. Such was the case with Ghost in the Shell, which was built for an Asian actress to shine.
Ghost in the Shell releases on March 31, 2017.