'Goat' Is a Horror Movie About Fraternities and Greek Life
The new film reinforces your worst fears about Greek culture.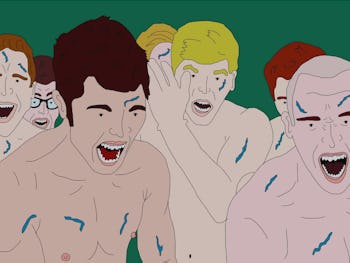 Illustration by Jamie Loftus
The characters in Goat — filmmaker Andrew Neel's take on the toxic nature of Greek life on college campuses — grew up watching joyful, Greek-cheering frat comedies like Old School, Road Trip, and Animal House. In comparison, Goat, a movie made amid darker times for the Pan-Hellenic system, is more like a horror film, depicting the sometimes-monstrous behavior of young pledges and upperclassmen.
After a century of churning out presidents and business leaders, Greek life has come under scrutiny of late, thanks to a series of exposés that continue to be published as students return to school each year. In Goat we have, perhaps, the first major production that dedicates itself to the seedy underbelly of that world with a focus on the insidious nature of the rush process.
Goat is, more than anything, an extended, nightmarish look at some of the more dangerous hazing techniques employed by fraternities to initiate new members of the house; even scarier is that it is based almost entirely on real-life examples, from pledges being trapped in a dog cage and verbally abused (based on a real case at Tulane University) to cases of serious incidents of animal abuse. Instead of being presented as a rowdy expression of potential brotherhood, though, Goat treats these processes as the technical definition of abuse that they are. The hazing process represents the majority of the film as its rushing protagonist (Ben Schnetzer) and his already-initiated older brother (Nick Jonas) grow increasingly disillusioned with the dangerous rituals that are supposed to prove their unwavering masculinity and commitment.
In 2015, Maxim published a story titled "The Fraternity Is Dying and That's Okay,", and while the bold thesis may not yet be true, there has certainly been a demand for change. Greek organizations have been hit with plenty of legal and civil charges over the past five years, ranging from sexual assault to hazing to racism to animal abuse and beyond.
With such deep roots in American tradition and so many allies in power, it seems more likely that the fraternities and sororities that are the site of so much physical and emotional abuse across the country will be forced to change rather than being shut down altogether. Regardless, the ideals celebrated by Animal House will not be around for much longer as colleges continue to buckle down on hazing practices, forcing them to instead become coed with the idea of building respect between the fraternity and sorority communities. And make no mistake, the incidents of hazing abuse aren't strictly male; sororities have been guilty of it as well.
Wesleyan University in Connecticut attempted to implement major changes during rush reason, making their fraternities mandatory coed, to what the Greek system might consider disastrous results. A year later, they had lost 500 donors, and the only fraternity that did not resist admitting women had been hit with a drug charge. Instead of nudging along change, the Greek culture at the university went nearly silent. Others feel that coed fraternities merely put two problematic institutions in the same house, effectively resolving nothing.
After seeing Goat and reading the stories from which it borrows, it's hard to believe that keeping Greek life alive in this form is worth the risk. James Franco appears in the film as the Ghost of Fraternity Future, the late-thirties father who's more committed to his college fraternity than his wife and is presented by Neel as an example of how the principles of dominance and masculinity over all seeps into and damages life as a graduated adult. Fortunately, there are emerging examples of Greek life across the country that don't abide by the nightmarish creed presented in the movie, exemplified in positive examples such as the increasing popularity of prioritizing LGBT-fraternity culture, opening up the groups to people they once condemned. Efforts are being made to crack down on racial profiling as well, another institutional issue within the system.
It's mid-September, that season when college freshmen longing for inclusion and a sense of community will begin to rush. Hopefully they'll see Goat and join the ceramics club instead.