A Brief History of Animation Screwing With the Real World
'Son of Zorn' is the latest in a great legacy of animation in the real world.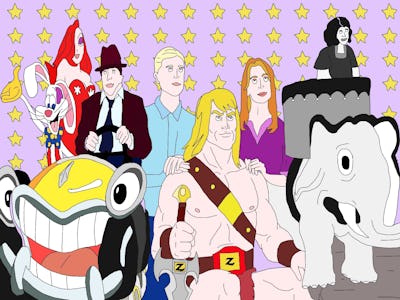 Illustration by Jamie Loftus
Son of Zorn, one of the more promising pilots in this fall's new TV season, is a foul-mouthed throwback that combines the physical world with the anything-goes rules of animation. And so while Zorn, a show about an animated warrior returning to California to see his live-action son and ex-wife, is off to a good start, he and his three-dimensional cast owes their early success to nearly a century of experimentation.
Most of us know (and can obsessively recite lines from) recent favorites such as Who Framed Roger Rabbit and Space Jam, but it's actually a very old technique reaching back to the beginning of cinema. Zorn's ancestors range from the primitive to the downright perverted. Here are a few of our favorite, less-remembered entries in a very specific genre.
Alice's Wonderland
Before there was Mickey Mouse, Walt Disney incorporated a live-action version of Lewis Carroll's Alice into an animated world. Quick episodes ran from 1923 to 1927 and helped get his Kansas City-based animation studio off the ground. Disney eventually lost the rights to the character, but not before it became his first success, prompting over fifty other entries in the series. Sure, it's a little bare-bones now, but a live-action Alice's incorporation in a cartoon at the time was nothing short of revolutionary. One of its few ancestors at the time was Gertie the Dinosaur, regarded as the world's first keyframe animation.
The Pagemaster
The Pagemaster was a massive flop at the box office and has since been forgotten by most. But still, it is relevant! It starred '90s boy Macaulay Culkin as a live-action character named Richard Tyler who gets beckoned into the animated world in a creepy, half-animated, half real-life library presided over by Christopher Lloyd. While the animated and live-action worlds rarely overlap (the movie would be far cooler if they did), the worlds weave in and out of each other seamlessly. For a '90s kids movie, the whole thing holds up pretty well.
Bedknobs and Broomsticks
Bedknobs and Broomsticks is often compared to Mary Poppins pretty frequently due to its era in Disney canon and a litany of overlapping cast members. It's less appreciated than its classic contemporary, but does boast a weird universe all its own. It stars Angela Lansbury as the quintessential bug-eyed witch and mixes the same practical effects that made Mary Poppins fly with an extended animated sports and ocean sequences in which Lansbury puts a spell on a rabbit, just because. Oh yeah, and there's Nazis.
The Phantom Tollbooth
Though most remember this title with the Norton Juster kids lit classic, Chuck Jones, known primarily for Looney Tunes and animated Dr. Seuss specials like The Lorax and How the Grinch Stole Christmas, adapted the story into a very, very '70s movie. Starring Butch Patrick (aka Eddie Munster), the movie did well at the box office — to the chagrin of Jones himself.
"I don't think they did a good job on it," he said in an interview. "It's been around for a long time. It was well reviewed, which also made me angry," he said in an interview.
That may be so, but you're not gonna find this caliber of mixing the real and animated worlds anywhere but in Jones's very capable hands.
Scooby Doo
Scooby Doo set the modern-day formula: Several lapsed TV stars and mediocre computerized animals working together in a reboot of an old, beloved property. Scooby was the first former cartoon character to hit the uncanny valley in 2002 when he teamed up Sarah Michelle Gellar, Freddie Prinze Jr., and the rest of the sexy gee-willikers teen gang. Those that followed include revivals of The Smurfs (starring Neil Patrick Harris), Garfield (starring Bill Murray) and Alvin and the Chipmunks (starring Jason Lee).
None of these films are particularly good or do the original Hanna Barbera classics justice, but let's be grateful for small miracles — at least they didn't adapt Johnny Bravo?
The Congress
Our final piece uses the experimental format for interests slightly less commercial than those listed above, and it was one of the indie darlings of the Cannes Film Festival a couple years ago. The great Robin Wright plays a fictionalized version of herself who is forced to sell her digital likeness in order to pay for her son's medical bills; doing so thrusts her into a dystopian world where citizens take chemicals to be transported to an animated otherworld where anything is possible instead of dealing with the real world falling around them. It's an effective use of 2D animation, an incredible performance from Wright, and well worth your watch.
Your move, Zorn.