5 Things to Look Forward to in 'Destiny: Rise of Iron' 
Once again, Bungie is bringing the heat.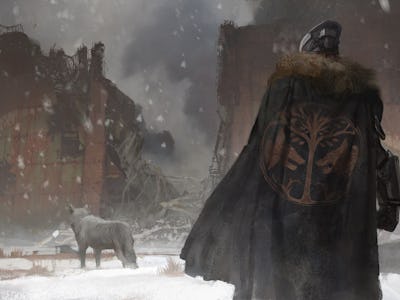 Activision
Destinys next expansion, Rise of Iron, is right around the corner. Set to go live during the weekly server reset this Tuesday, Rise of Iron will be available to players at 5 a.m. EST. The new expansion is going to bring tons of additional content to players revolving around the Fallen House of Devils, the Iron Lords, and the ancient plague known as SIVA.
Rise of Iron is filled with goodies for both current and returning Destiny players including an entirely new story revolving around Lord Saladin, a new strike, a new raid, and a new Crucible game type. Each activity will also give players access to new themed equipment which will help everyone work towards the new Light cap of 385. Here's a few things you've got to look forward to in the new expansion!
Becoming an Iron Lord
If you've been playing Destiny for the past few years, odds are you've heard of the Iron Lords in some capacity, especially if you've taken part in the Iron Banner Crucible events. The Iron Lords were some of the most highly regarded Guardians in Destiny lore because of their sacrifice to bury what we now know as the biomechanical plague SIVA. Every Iron Lord, with the exception of Efrideet and Lord Saladin, gave their lives to contain the plague and prevent it from spreading — and have been honored with the Iron Banner events since.
In Rise of Iron, SIVA has broken free once again thanks to the Fallen House of Devils, and Lord Saladin is building a new force of Guardians to help him contain it. Not only will we have an opportunity to discover more about the Iron Lords from a lore standpoint, but we'll have the ability to become one ourselves and join Lord Saladin as one of the most respected individuals in the Destiny universe. Yes, that does mean we'll get to carry giant axes used by Iron Lords too.
The Plaguelands
Just like the Dreadnaught from The Taken King, Rise of Iron is bringing an entirely new zone to Destiny known as the Plaguelands. This area has been quarantined for centuries to keep SIVA locked away from those who would seek to set it free, but it has been broken into by the House of Devils within the new expansion.
As a result, the Plaguelands are now open to players who are working to contain the new faction of Fallen infected by the SIVA plague. The zone is visually similar to the Cosmodrome and features heavy snowfall all throughout the area. Like other zones in Destiny, it also features tons of hidden items, events, and rooms for players to discovery as a community; and if they're anything like those from The Taken King? The community will have a ton of secrets to uncover together.
A New Raid
Raids have, and always will be, one of the best parts of the Destiny experience. Each of the raids present in Destiny since the game first launched have been some of the most challenging and compelling activities in the game, bringing together six players to defeat bosses and gain powerful loot. We haven't seen a new raid since The Taken King was released last year, but Rise of Iron is bringing Wrath of the Machine to players this Friday.
The new raid will be similar to Destiny's first raid, the Vault of Glass, and feature the expansion's new enemy type: the Devil Splicers. Like the Vault of Glass, the raid will start in a public space and no matchmaking will be available for players seeking to complete it. That's no surprise though, considering that Bungie has stuck with this policy since day one. Like all previous raids, Wrath of the Machine will feature new gear to boost players to the new Light cap of 385 and have a hard mode, although the release date for hard mode has yet to be confirmed.
Ornaments
Customization has always been a huge part of the Destiny experience and Bungie has continuously worked to make players feel more unique when standing next to their counterparts. Currently Shaders and Chroma are two of the main ways in-game to modify your character's appearance — and with Rise of Iron Bungie is introducing Ornaments to the roster.
Based on what we've seen, Ornaments are essentially new skins for your weapons and armor. Each of these Ornaments are attached to specific equipment and can be selected like you would any perk, changing the entire appearance (or just a piece) of the item in question.
Artifact Overhaul
Artifacts were originally introduced as a new item within The Taken King expansion last year, but instead of becoming an interesting piece of equipment, they just remained a slot to fill in your character's equipment loadout to build your stats. In Rise of Iron, Bungie wanted to make Artifacts feel like their own powerful thing, and as a result have completely overhauled the system.
There are 8 brand new Artifacts present in Rise of Iron that are available to any class. Each of these Artifacts is connected to one of the deceased Iron Lords and offers a game-changing ability to players with them equipped. The Memory of Felwinter, for example, completely removes your super but gives you an extra grenade, melee charge, a boost for all of your stats, and allows orbs to recharge your grenade and melee abilities. Basically, Artifacts now allow you to modify your play style, and that's a welcome change of pace compared to the current model.