Jerome, 'Gotham''s Creepy Young Joker, Sounds Excited to Return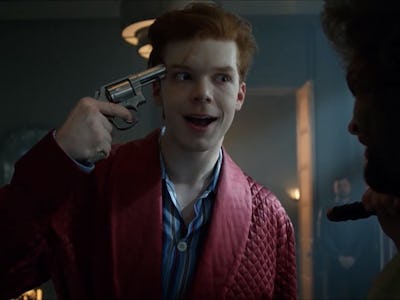 Warner Bros. Television, DC Entertainment
It was only a matter of time before fans saw Gotham's prototype Joker again. Thanks to a terrifically creepy Instagram posted by actor Cameron Monaghan, viewers now know that certified madman Jerome Valeska will return to Gotham.
As viewers might recall, Jerome Valeska was killed off in Season 2 after a failed hostage situation involving a young Bruce Wayne. However, Jerome's criminal legacy as leader of the Maniax created a cult around the would-be Joker, despite his age — and despite his death. An army of Joker imitators have apparently sprung up around Gotham, and it seems that, in the coming season, the original Joker will return from the dead.
Gotham's executive producer John Stephens explained that Jerome's story was planned as a long con, first with his legacy examined in Season 3 before coming back for good in Season 4. How that legacy will be explored is still unclear. Jerome was mentioned plenty of times after his death throughout Season 2, but the Instagram teaser from Monaghan hints that Season 3 will feature Jerome's young Joker in a seriously creepy way.
Gotham's upcoming season has been given the subheading of "Mad City" which many expect has to do with the forthcoming introduction of classic Batman villain the Mad Hatter. With Monaghan's Joker laugh video, however, the story could involve more than one lunatic trying to run the show.
The Gotham Season 3 premiere airs September 19 at 8 p.m. on Fox.