Ta-Nehisi Coates Says Black Panther Is Not Your Denzel Washington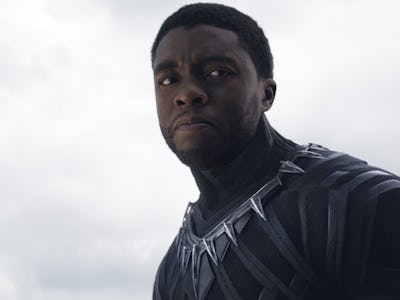 Marvel
Having written the comic book series since April, Ta-Nehisi Coates has reinvented Marvel's Black Panther character. The series began just a month before Black Panther made his cinematic debut in Captain America: Civil War, and the T'Challa hype has been surging ever since. In part, comic book fans are excited about representation; T'Challa was one of three black male heroes to appear in Civil War and is the only Avenger operative who doesn't work for the United States. But Coates says T'Challa is even more complex than that: "I think in a lot of people's minds T'Challa is a lot like Denzel [Washington]," he says. "He's supposed to be smooth and effortlessly do x, y, and z."
Coates believes that his Black Panther comics prove that black heroes, at least black men, are in a second wave of influence. "Before my run, there were several things that happened at Marvel, like some bad things happened to Wakanda. First of all, you've got [Christopher] Priest. Priest's job is to get white folks to take T'Challa seriously. T'Challa ain't no chump. He established that pretty well." After Priest left the title in 2006, Reginald Hudlin took over. "Reggie […] says, 'Not only is T'Challa not a chump, but Wakanda ain't to be fucked with, period.' Like ever. Don't even think about it. We've been wrecking fools since time immemorial."
After Hudlin's run, Coates said "fucked up things" happened in the Marvel canon to Wakanda, and part of his job as a writer is reversing those, restoring T'Challa's influence, and making him into a superhero that contemporary audiences will enjoy. Part of that, Coates says, is getting T'Challa away from that Denzel archetype: the black alpha male who effortlessly solves conflicts smoothly, oozing with style. It's the difference between writing an "empowered, strong" protagonist and allowing a character who belongs to an ethnic and national minority in the Marvel universe to be complicated, make mistakes, and have character flaws.
Coates says complicating T'Challa is just allowing him to have what white, male heroes have repeatedly had before. "Longtime fans of the character obviously got something out of seeing T'Challa a certain way that we all need. [It's what] white fans get out of seeing Captain America a certain way or seeing the Punisher a certain way." As depicted in Coates's "certain way", T'Challa defies the Avengers on occasion and consorts with people of varying ethical standpoints to make his decisions. There's a sense, reading Black Panther, that the choices T'Challa makes may or may not pan out well, and that's a classic mark of a superhero story.
While Ta-Nehisi Coates isn't officially writing anything for the Black Panther movie project, both Chadwick Boseman (who plays T'Challa) and director Ryan Coogler have expressed interest in the current comic book text as inspiration. Now that T'Challa, in both cinematic and literary adaptations, has entered into the spotlight on the Marvel stage, fans have the chance to become reacquainted with a character who's grown far beyond the man he was when he was originally written. Coates's T'Challa, like the author says, is not a smooth operator. He's a flawed, truly modern superhero.