'World of Wakanda' Coming from Roxane Gay and Ta-Nehisi Coates
Expanding on Black Panther's home country, the comic zeroes-in on Black women leading the charge.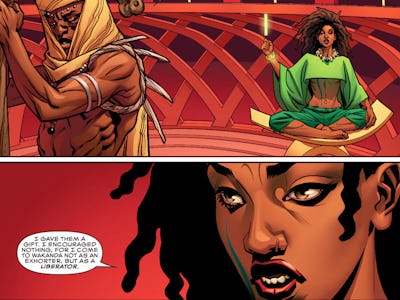 Marvel
Black Panther is one of the most beloved Marvel characters today – for a number of reasons. Aside from being the actual King of Wakanda, Black Panther (or T'Challa) has remained one of the most rational, centered characters in the universe, and his introduction in Captain America: Civil War brought a new wave of love for the character that propelled a new smash-hit comic written by author Ta-Nehisi Coates. The first issue sold over 300,000 copies, and the series has held a consistent, adoring audience since then.
With the success of Black Panther once again riding high on the pages of Marvel comics, the publisher has decided to expand upon the country he so proudly leads, and dig deeper into the stories of the women that surround them. Today, Marvel announced World of Wakanda, an all-new series that is making history in more ways than one.
The comic focuses on two lesbian characters, Ayo and Aneka, two former members of Black Panther's female security force known as the Dora Milaje. But what's more important — though two black, queer, female characters starring in a Marvel story is extremely important — is the fact that, for the first time, a Marvel comic book series will be written by a black woman (and contributed to by black women). Writer Roxane Gay will lead the series, and the first issue will include an extra 10-page story created by poet and university professor Yona Harvey. The art team will also consist of black women, with Afua Richardson and Alitha Martinez.
"It's the most bizarre thing I've ever done, and I mean that in the best possible way," said Gay, whose agent was apparently thrown for a loop when the project surfaced. "The opportunity to write black women and queer black women into the Marvel universe, there's no saying no to that."
"We have to open the door," said Coates. "It's not, 'Wouldn't it be nice if there are more women writers, more women creators in comics?' That would be nice, but in many ways, it is kind of an imperative."
World of Wakanda will debut in November.