Why Making 'Blair Witch' Made Actors Faint
Cold, wet, in the dark, in Canada: 'Blair Witch' stars recount times shooting a horror movie felt too real.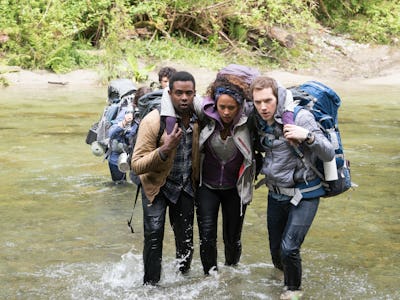 Lionsgate
With long, freezing-cold hours in the dark of the Canadian wilderness, the set of Blair Witch was suitably uncomfortable for the actors. In planning his follow-up to the 20th century's last great horror movie, The Blair Witch Project, Wingard told Inverse he sought authenticity in the moment, which basically meant he scared the living hell out of his cast and crew.
The films stars confirmed that he did just that. Actors James Allen McCune (who played James), Callie Hernandez (Lisa), Corbin Reid (Ashley), and Valorie Curry (Talia) opened up to Inverse about specific moments where acting and playing pretend got a little too real.
James Allen McCune: The rain was the hardest. We had an option to wear a wetsuit underneath our clothes, but it's Canada, it's middle of the night for like, 12 hours, and it's freezing. I fainted, because we were running around so much and not eating. It was so hard. It was great, and it objectively produced the most beautiful shots of the movie. It was definitely a challenge, for sure.
Callie Hernandez: I didn't want to put that [wetsuit] thing under my clothes, because it takes 30 minutes to take it off to pee. That's why I didn't. It was stupid. You have to go [someplace scary], psychologically, to work. Adam scared the living daylights out of us on multiple occasions with a guy dressed in a yeti costume. He throws sticks in the woods while we were shooting something, trying to scare us. He also had an air horn that he liked to use and abuse.
On her underground crawl scene: [It was the] most psychologically challenging [scene], I would say. I think I remember it being about 14 takes, which was conservative for us on this film. I remember doing seven takes in a row and walking out for a breather. I'm not claustrophobic; I found out through that that I really enjoy action stuff. I remember coming out, seeing it, seeing playback, and knowing what to do from there. The way that the tunnel was built: it [was] one inch wider than my shoulders, so there wasn't room. By the time we got it, I was ready to come out.
Valorie Curry: A tent flies up and they didn't want to practice it because it took so long to rig it. We rolled on the first take and there's sort of like a breakdown happening because my character did something terrible she didn't anticipate, and she's backing up and then the tent is supposed to fly. Since we hadn't practiced it, I didn't know when it was going to happen. The tent flew up and it scared the living shit out of me. I think the take they used is the first take because I was absolutely so scared. It just flies in to the air and the sound of it whipping and the material moving through the air is just like, pretty epic.
Corbin Reid: It was the scene when we wake up, the real stick figures, which are more like lumber corpses hanging. Phoenix Design really took things to another level. The night we shot that, it was a creepy place to be, it was a creepy night. Something felt different and weird. There was a moment in the melee run I'm crying and freaking out. I'm backing up, trying and the first time it happened, I walked straight back into a like six foot body hanging. I screamed.
Blair Witch opens in theaters September 16.