'Blair Witch' Has a Sequel, and it Looks Terrifying
'The Woods' is actually a followup to the 1999 classic.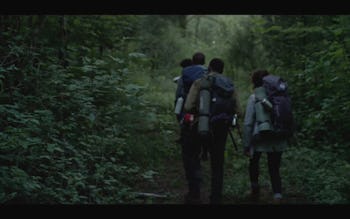 Lionsgate/YouTube
The Blair Witch Project has a sequel, and it's coming out this year. Lionsgate Films made the surprise announcement Friday night that forthcoming horror flick The Woods was actually a cover-up for the sequel to 1999's found-footage scream fest. The followup, simply titled Blair Witch, has a new trailer, and it looks terrifying.
It's not a total surprise. Inverse noted the similarities between The Blair Witch Project and The Woods back when the latter got a teaser trailer in May. Filmmaker Adam Wingard, who previously worked on genre mashup The Guest, described the film at the time as his first "shit your pants" horror flick.
The film stars James Allen McCune, who found fame playing Jimmy in The Walking Dead. He's joined by Valorie Curry, who played Jane Kuhne in Veronica Mars, and Callie Hernandez, who previously starred in Machete Kills and the TV series of From Dusk Till Dawn.
Blair Witch series aficionados will remember that The Blair Witch Project already had a sequel. Book of Shadows: Blair Witch 2 was released a year after the original. It got slated. The film holds a 13 percent rating on Rotten Tomatoes, where its predecessor got a critically-acclaimed 86 percent on the site.
Comic-Con attendees got a secret screening of the new film on Friday behind closed doors. Unfortunately, fans will have to make do with a short trailer until full release, but early reviews have described it as "one of the scariest movies ever made" and "a truly terrifying cinematic experience."
Fingers crossed that the new followup is closer in quality to the original, but the signs look promising that Lionsgate may have kept secret one of the best horror sequels in years right under fans' noses.
Blair Witch opens in theaters on September 16.