Facebook Announces It's Going to Allow You to Shop Within Messenger
A simple back-and-forth with a bot will allow you to buy shoes and book hotels.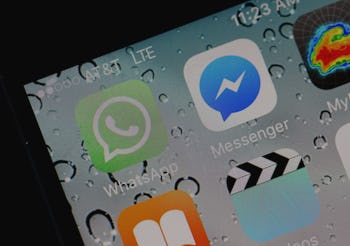 Getty Images / Justin Sullivan
Imagine you need to buy airline tickets. Rather than sort through a deluge of flights on Expedia to find options that work for your schedule and budget, you'll soon be able to just tell a bot exactly what you're looking for and then book flights, all within Facebook's Messenger app.
At least that's Facebook's vision for the future of Messenger, touched on this week in a blog post. Messenger is about to get lousy with bots. Already, users can ask bots for weather updates, basketball scores, recipes, or shipping notifications, and soon they'll be able to make purchases without ever leaving the app. The new Messenger features were announced Monday, including a beta program for businesses to accept payments for products and services through chat bots.
Customers will be able to make purchases through either mobile websites in the Messenger app, or directly in a conversation with a bot. These features are currently only open to "select developers," but Facebook plans to make the feature available more broadly by the end of the year.
As business chat bots become more popular, payments in chats are going to be much more common for everything from shoes to hotel rooms. Bots simplify the purchasing process by eliminating all the pages involved in the typical online checkout process, and shoppers won't have to add their payment and shipping information for each new bot they order from in Messenger.
For the customers of the future who know exactly which iPhone 9 model they want, they can tell a bot the specs they want and tell the bot to order it the moment it's available.
Bots can also ask clarifying questions before finalizing a transaction. Clothing retailers can suggest products tailored to customer preferences based on answers to questions about favorite styles, and Apple's bot may ask you whether you need an adapter for your old headphones.
But just how secure is buying from a bot? Facebook says the transactions will be "protected with bank-level encryption." Facebook currently works with Stripe and PayPal to process payments, but there will be added support for services like Visa and MasterCard.
So with a credit card and a shipping address on file, online purchases will soon require less clicking and chatting, and presumably, another way to buy plane tickets.