TheScore Facebook Messenger Chatbot Wants to Drop Stats Into Your NBA Group Chat
A chatbot that has plenty of sports info to add to your conversation.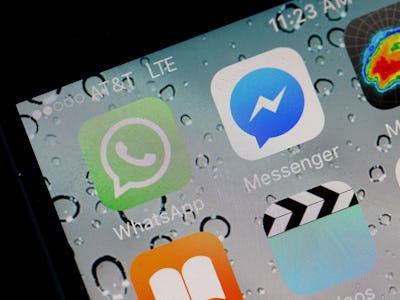 Justin Sullivan/Getty Images
The Canadian sports notification app theScore thinks the future of sports news is going to be a lot more conversational. It's planning to launch its own Facebook Messenger chatbot following the debut of the platform this week at the annual F8 conference.
The company has a prototype it's been using around the office, and Benjie Levy, president and COO of theScore, tells Inverse users will be able to ask the bot questions, such as "how did my favorite team do last night?" and set up notifications as granular as "send me a notification every time there's a scoring play."
These are features already available to users of theScore's own app, as well as a multitude of other competitors, like Bleacher Report to Sports Center. But in chatbot form, they're now coming in a far more conversational way, of course.
The truth of the matter is, neither theScore nor any developer out there knows quite how this bot technology will be used or be most helpful.
"At this point we're just experimenting and we're going to see how it works and we're going to respond based on how our consumers use it," Levy says.
He and his app team are floating an interesting idea that uses chatbots to enhance a sports group's discussion of a live game. Friend groups from college and high school are spread all across the world, and Facebook Messenger already provides a venue with which to communicate. A chatbot could further resolve statistical disputes, deliver highlight clips, and initiate sports trivia questions and factoids.
However, so far the bots have not been smart enough to meet consumer expectation. The initial reviews of Facebook's platform are in, and the debut product is not off to a good start. Users are reporting a lack of ability to respond to basic queries, and most seem to spend more time guessing what the bot wants them to say instead of answering what they want to know.
TheScore doesn't have an official launch date for its chatbot yet, but the company says it's planning on launching it soon and it will be available by using the search function on the Messenger app.