5,300 People Were Fired Over This Insane Wells Fargo Bank Scam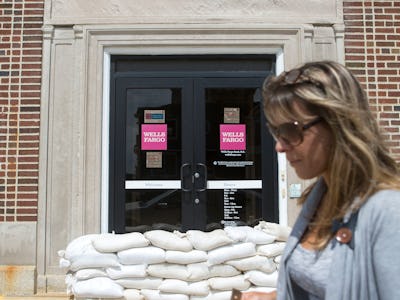 Getty Images / Jessica Kourkounis
Wells Fargo, one of the biggest banks in the United States, is paying a hefty price for a frankly bonkers scam that thousands of its employees pulled over unsuspecting customers. As punishment, it's going to have to pay a $185 million fine, and it's already fired about 5,300 people for their roles in the swindle.
According to a new story in The Wall Street Journal, the Office of the Comptroller of the Currency, Consumer Financial Protection Bureau, and the Los Angeles attorney announced on Thursday that they were hitting Wells Fargo with the largest fine the agency has ever imposed, and for good reason: Wells Fargo had, basically, engaged in organized crime on a pretty crazy scale.
Thousands of Wells Fargo employees surreptitiously signed up their customers for about 1.5 million deposit accounts and 565,000 credit card accounts that the hapless consumers had no knowledge of.
Employees transferred money from customers' legitimate accounts to open new accounts that they didn't approve of, and some customers were hit with overdraft fees when they suddenly didn't have enough money in their account because it was mysteriously someplace else.
Other aspects of the scam included creating PINs for customers that they didn't want or ask for, and creating fake email addresses so employees could enroll people in new accounts without tipping them off.
Regulators say the bank pushed its employees too hard, and didn't monitor them enough as they scammed customers to help them hit high sales goals.
Still, Wells Fargo fired more than 5,000 employees because of their alleged wrongdoing.
"It is outrageous for a bank to use a customer's private information without permission to open an unwanted account," L.A. City Attorney Michael Feuer said. "Consumers must be able to trust their banks."
In addition to the $185 million fine, Wells Fargo will also have to pay another $5 million in customer remediation, and it'll have to hire an independent consultant.
Joanne the Scammer would be ashamed.