Did the SpaceX Explosion Cause NASA to Cancel This Press Tour Tuesday?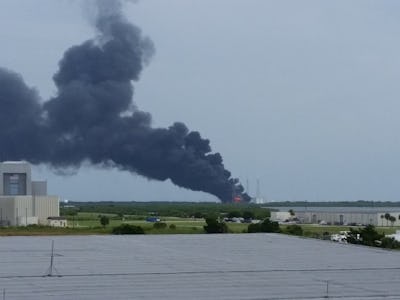 Twitter
On Tuesday morning, NASA was scheduled to host a media tour of its Commercial Crew Program down at Kennedy Space Center in Florida.
That tour never happened. The agency has not announced a reason why, but there is one very obvious guess: last week's SpaceX rocket explosion, which occurred on the SLC-40 launch site at Kennedy Space Center
A media advisory posted August 29 had originally listed the tour to begin at 10:30 a.m. "NASA's Commercial Crew Program will provide media with an update on the progress being made by the agency's commercial crew partners," the release originally stated. "Media wishing to participate must arrive at the Kennedy Press Site by 9:45 a.m. to board buses, and will return to the Press Site by 11:50 a.m."
That paragraph has now mysteriously disappeared from the release, which was last updated September 6. A different page listing the briefing events Kennedy Space Center is hosting this week, in the run-up to the OSIRIS-REx mission laughing on Thursday, also has no mention of the now-nixed media tour.
NASA did not immediately respond to an inquiry from Inverse as to why the CCP event was canceled, but there is very little doubt the agency was hoping to avoid being inundated by a throng of reporters looking for how last week's blaze — which consumed the AMOS-6 satellite important to Facebook's Internet.org initiative — would impact commercial crew operations.
Canceling the media tour does not look good for NASA. A new report already attacks NASA for the repeated delays holding back its goal to send astronauts to the International Space Station using privately-owned and operated vehicles. The space agency knew that report was coming out and was probably prepared to answer those criticisms Tuesday morning. But last week's accident probably made the scrutinizing lights too hot for comfort.