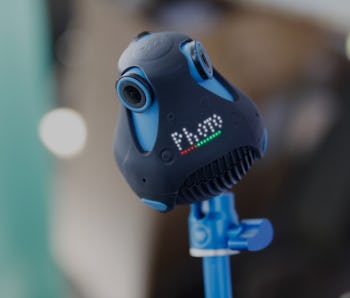 Innovation
Giroptic's 360cam Is World's First With Real-Time Stitching
360-degree selfies? Sure.
Mike Brown/Inverse
Ready to take the selfie stick to the next level? Giroptic's tennis ball-sized 360cam, due for a wide release next month, is the world's first 360-degree camera that automatically stitches together the photos from its multiple lenses. At Pirate Summit 2016 on Tuesday, Inverse got a demonstration of the revolutionary new device.
"We're the only one with the real-time stitching technology," said Céline Castex, Japan country manager at Giroptic. "With other [360-degree] cameras on the market, you need software. So you take your picture, and then you need to send it to your phone or application on your computer, stitch it together. Here, it's immediate."
The resulting shot is viewable on a standard smartphone screen using the company's app, flicking around the scene with the touchscreen, or users can clip on a bundled pair of goggles to immediately see a virtual reality landscape. The VR shot is 2D, but with emerging photogrammetry technology, it's possible these shots could be expanded into 3D in the future.
The camera, which is priced at €500 ($557), has shipped 3,000 in a limited pre-order that's been ongoing since May. It's a cool little gadget, but the underlying tech is what really sets it apart. The patented stitching system can even handle video and real-time live-streaming.
The potential applications for the technology are fascinating. Journalists could transport viewers right to the scene, reporting live with just the camera and a smartphone. Extreme sports manufacturers could take the technology and build it into a helmet to get closer to the action. Performers could hold the tiny camera on stage and capture the action without any need for fumbling with cables.
Beyond the camera itself, Giroptic sells a number of unique accessories that can expand the device's potential. An optional light bulb adapter, which screws into a standard fitting, can set up a home surveillance system for under €80 ($89). An Ethernet adapter, priced at €279 ($311), bypasses the camera's wifi connection for professional 360-degree live-streaming.