Who Will Watch NBC's 360-Degree Virtual Reality Kentucky Derby Live-Stream?
VR of a horse, of course.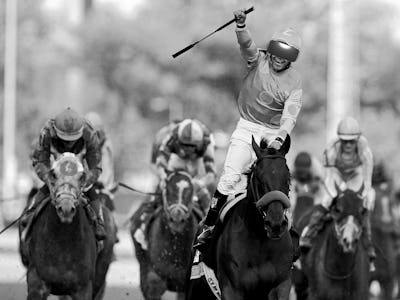 Getty / Illustration by Inverse
You don't need floppy hats, Lilly Pulitzer dresses, or bow ties to be in the middle of the action at Saturday's 142nd Kentucky Derby. NBC announced that it will partner with NextVR to live-stream the most storied horse race in the country for free in 360-degree HD virtual reality.
Seven cameras — five on the track and two in the paddock — will capture the race from start to finish. Watchers can turn around and see a virtual video screen with live updates of statistics, data, and betting odds just like they would see on the video display board at Churchill Downs. It will be like being at the race in person – you can even make yourself a Mint Julep to enjoy while watching (though VR headsets pretty effectively impair one's ability to eat, drink, or be social).
It's cutting-edge technology for any sport, but it's especially noteworthy for something as large and tradition-heavy as the Kentucky Derby.
"As we dip our toe into the virtual-reality realm, our thought process was 'where is the most iconic place that we can transport the user at home?'" Matt Celli, director of production technology at NBC, told Sports Video Group. "Churchill Downs is that place for us."
The Kentucky Derby could be a huge platform for virtual reality. Last year, some 16 million viewers watched the race.
The five cameras on the track will allow a seamless view of the race, and the two cameras in the paddock will show the horses parading before the starting gate. Even the donning of the wreath and the winner's circle will be broadcast in clear HD virtual reality.
There are a few questions that come with an announcement like this: Who will watch? Viewers will be able to watch the race in the NextVR app using a Samsung Gear VR headset, so how many horse racing fans are also dedicated VR fans with all the proper gear? Or is NBC counting on people who already own VR headsets to jump in on the broadcast?
According to the demographic data offered by the Derby, the age skews in the younger, might-have-a-VR-headset age. The data show 17 percent of attendees are 21 to 29, and 15 percent are 30 to 34. Who knew?! Derby fans are wealthy, as well — around half of attendees earn more than $100,000 a year — so buying a VR headset to watch the race at home this year is no big thing for these people.
"We're going to wire our viewers directly into one of the most exciting, spectacular experiences in sports," Dave Cole, NextVR's co-founder, says in a statement. "This is a show not to miss."
On a broader note, this level of live VR sports streaming is a good sign for the future of watching sports. It's a step up from the 180-degree offering during March Madness, and could be the middle ground to a VR Super Bowl. Of course, it's also good for whoever is at the cross section of VR and horse racing fandom.