Apple's Self-Driving Car Project Is Having Some Problems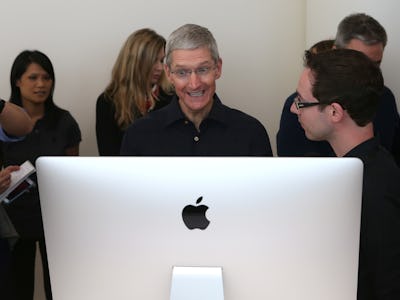 Getty Images / Justin Sullivan
For the better part of two years, Apple has been working on a self-driving electric car … not that Apple would ever admit it. CEO Tim Cook came really close to kind of sort of confirming its existence in an interview last month, but mostly the project — which may or may not be codenamed Titan — has been under the same veil of secrecy that all in-development Apple projects are.
As such, it's a little difficult to parse exactly what this new report from The New York Times actually means for the well-being of the project. The Times reports that the company has closed some parts of the project and laid off dozens of employees — the entire team is thought to comprise about 1,000 people, so "dozens" could be a small but decent chunk of the overall team. The moves were reportedly described as a "reboot" of the project to Apple executives.
The Times doesn't give a specific reason that such a reboot is needed, but its overall background may point to why Apple wanted to rethink its approach and, at least to some extent, start over:
The team also pulled in staff members from other divisions across Apple, growing to more than 1,000 employees in about 18 months. But as the project grew rapidly, it encountered a number of problems, and people working on it struggled to explain what Apple could bring to a self-driving car that other companies could not, according to the people briefed on the project.
The report also mentions the shift in leadership of the project from Steven Zadesky, who left the company earlier this year for personal reasons, to Bob Mansfield, described as a close associate of the late Steve Jobs who "had all but retired from Apple except for the occasional visit to the company's headquarters" before being coaxed back for this project. Whether any of that is the Times' delicate way of pointing to leadership issues is anyone's guess, though.
What all this means for Apple's project remains similarly unclear. These setbacks do appear to place Apple behind other companies' self-driving car initiatives, especially considering other tech companies have already gotten such cars on the road, albeit in limited capacities. Both car and tech companies working on such projects appear to be targeting 2020 or 2021 as the big debut of driverless cars. Given all these reported problems, Apple probably isn't the favorite right now to be the big winner of this particular race, but a lot can go right — or wrong — in five years.