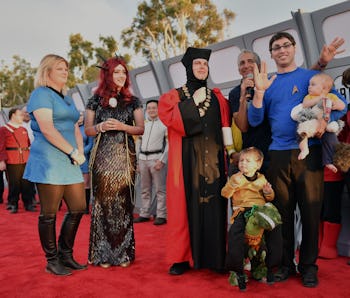 Entertainment
The Best Ways to Celebrate the 50th Birthday of 'Star Trek'
Your complete guide for toasting the biggest sci-fi event of the year.
Getty Images / Mike Windle
Unless you're hiding on the planet Delta Vega, you may have heard that September 8, 2016 marks 50 years exactly since the original Star Trek debuted on NBC with the space vampire episode "The Man Trap" in 1966. It's hard to believe our little Star Trek is only 50. In Vulcan years, that's practically still infancy! Now the big question is: where's the outer space cake?
Deciding that you want to celebrating the 50th anniversary of Star Trek won't be hard. But do you have plans yet? Beyond getting acquainted with that bottle of Romulan Ale your doctor gave you for your birthday? Hmmm? Figuring out the coolest, most fun, and most unique Trekkie ways to celebrate this big birthday might be daunting. Don't worry. We got you. Here's our guide to getting down with your Vulcan/Klingon/Android bad self and raising your glass (multiple times) to Star Trek from now until the end of the year. Engage.
Conventions
Since 1972, Star Trek conventions have been the go-to spot for fans of the final frontier to congregate. And the remainder of 2016 has a bunch cons. Starting with this weekend in New York City, tickets are somehow still available for Mission New York. From a Deep Space Nine cast reunion to an exclusive talk from Nicholas Meyer about Star Trek: Discovery, this one is going to be big. But, there are a ton more around the world from now until December. On the weekend right after the anniversary is the offical Chicago Star Trek Convention, headlined by William Shatner. And, in October, there's Star Trek: Destination Europe in Birmingham, which historically has been one of the largest gatherings in the world.
Most U.S. convention are organized by Creation, which has a handy list here. And a more global list (which also includes non-Star Trek cons) can be found here.
Marathons
From September 8th to September 11th, BBC America will run the first two season of the original Star Trek. These versions will be the uncut and digitally remastered versions of the series, which means they'll contain all the controversial dialogue cut from the original broadcasts of the show (Kirk talking about a colleague getting a shipment of hot peppers), but also the 2006 updated special effects, which sometimes look a little out of place with the old-school shoe-string budget.
If you're in Canada, the Space channel will air a curated selection of 50 episodes from across all versions of the franchise. Featuring the 10 "best" selections from each series, this marathon will start with Enterprise on 9/1 and runs through Labor Day with a selection from the original series. And, assuming you have access, this selection of episodes is also available to be streamed through CraveTV.
But don't forget your local communities! Libraries and bars across the world are hosting their own impromptu marathrons. For example, the Rantoul Public Library in Rantoul, Illinois will host a marathon screening starting on September 8 itself.
Screenings
If you've already seen Star Trek Beyond a few dozen times in the theatre, then you're probably ready to hit up one of the other cinematic Star Trek efforts. Again, screenings of the various films are popping up everywhere. The Toronto International Film Festival will host an impressive line-up of episodes and Star Trek films from September 8 all the way through December 30.
ON September 8, the Orlando Public Library in Orlando, Florida will screen 1979's Star Trek: The Motion Picture. Meanwhile, on September 17, in Wichita Kansas, the Wichita Library will show two Star Trek films back-to-back, though they're not saying which ones, yet!
New Books and Comics
The adventures of various crews of the Enterprise, or the other Star Trek settings aren't limited just to the films and shows. Books and comics have been a classic way for Trekkies to get their fix.
Since 2009, IDW has published contemporary Star Trek comic books largely focusing on the adventures of the "reboot" original crew in between their adventures in the new films. These stories aren't considered "canon," but the attention to detail in the writing is so good that they may as well be. (Back in 2009, the IDW series Countdown explained exactly why Nero's ship was so damn supped-up with weaponry.) After a long run of an ongoing pre-Beyond title, IDW will launch a new ongoing series called "Boldly Go" in October.
The rest of 2016 will also see a slew of new Trek-related books including Star Trek and Psychology, a new series of novels from Pocket Books called Prey, and a giant two-volume in-universe reference guide; The Star Trek Encyclopedia.
Back before there were a million wikis dedicated to various fictional universes, Denise and Michael Okuda published The Star Trek Encyclopedia in 1997. Now, they've revisited the project by issuing a slick new fully-revised and updated two-volume set. On October 18, certain completists will lose several hours just paging through these puppies.
Documentaries
Assuming you have traditional cable, until September 19, you can watch the History Channel's documentary 50 Years of Star Trek* which includes interviews with not just various Trek-alum, but fans like Bruce Campbell, too. Meanwhile, this Sunday will see the premier of The Smithsonian Channel's science-focused documentary, Building Star Trek.
On the theatrical side, Adam Nimoy (son of the late Leonard Nimoy) will debut For the Love of Spock, his documentary about the beloved character on September 9. (Look for our exclusive interview with Adam Nimoy here on Inverse next week!)
Exhibits
If you want to actually enroll in Starfleet Academy, the Intrepid Air and Space Museum in New York City will continue their excellent exhibit exhibition which includes an interactive starship bridge, original props for the various shows, and the classic shuttlecraft Galileo along side the NASA space shuttle Enterprise.
For those over in Seattle, the EMP Museum has converted its Science Fiction Hall of Fame for an exhibit called "Exploring New Worlds," which in addition to featuring a slew of memorabilia on display, also boasts original set-pieces and set reconstructions.
If original artwork is more your thing, there's a Star Trek-themed art show cutely titled "The Space Trip Art Show" opening this weekend in Brooklyn, NY at the Gristle Tattoo + Art Gallery. It will be on display until October 15.
Your Own Private Celebration
Star Trek is all about honoring your own personal identity, so there's no reason your celebration of the big 50th anniversary has to be limited to all the codified organized stuff. With that in mind, here's some ways to get the party started. (And to keep it going!)
Play Scrabble but only allow Star Trek words.
Organize a Star Trek drinking game where you have to chug a whole beer every time the doors make that little swishing sound.
Spend an entire week at your job talking like Spock.
Invent warp drive in your garage.
Never stop believing in your dreams.
Live long and prosper, literally.