"For the Love of Spock" Trailer Shows Us the Many Sides of Leonard Nimoy 
Spock, and Nimoy, live on in his son Adam Nimoy's new film.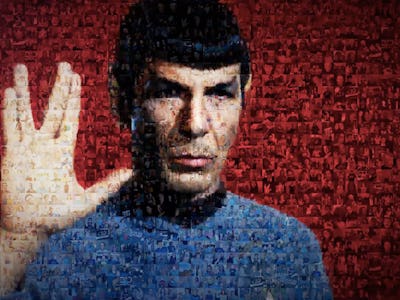 YouTube/ For the Love of Spock
Spock, son of Sarek, is one of 20th-century science fiction's most iconic characters. Until his death in 2015, Leonard Nimoy portrayed the deeply rational, and deeply emotional half-Vulcan in an entire generation's worth of Star Trek films and TV series. Now, Adam, son of Leonard, has collected hours of interviews, behind the scenes footage, and highlights from the USS Enterprise's voyages where no man has gone before into a feature documentary on his father and the character that he brought to life.
Both of Nimoy's biographies, I Am Not Spock (1975) and I Am Spock (1995) focused on Nimoy's relationship with his most famous character. Nimoy reprised his role as Mr. Spock in both of J.J. Abrams's rebooted Star Trek films alongside an alternate-timeline version of the character played by Zachary Quinto. Quinto is the first actor to play Spock aside from Nimoy (with the exception of the ensemble cast who played different versions of the character in 1984's Star Trek III: The Search for Spock).
"To create a character that leaves a mark on the society, that strikes a chord that resonates — Leonard Nimoy did that," a voiceover says during the trailer.
For the Love of Spock will premiere on Saturday at the Tribeca Film Festival. It will also screen on April 18, followed by a panel discussion with Adam Nimoy, Zachary Quinto, producer David Zappone and critic Scott Mantz.
The new trailer unites nearly every major actor who worked with Nimoy, sharing their thoughts and memories of what his performance, his friendship, and the character meant to them. William Shatner, Simon Pegg, J.J. Abrams, Zoe Saldana, and George Takei will all feature in the film, which appears to be comprised largely of interviews with Nimoy's son Adam.
"I loved Leonard," Shatner says during the trailer. "I've never had a friend like I had with your dad."
Check out the trailer below.